Real Puppy reviews at AwesomeDoodle.
Searching for the best AussieDoodle, SheepaDoodle and BerneDoodle breeders?
You may be overwhelmed by tons of website doodle jargon, like F1 and F1B and Multi-generation. While we encourage you to read up on AwesomeDoodle to see how we raise our puppies, you don't have to take our word for it. Read some of the reviews from our POO puppy owners below.
Looking for the perfect family dog?
When it's time to pick a non shedding dog also a perfect family companion, families all over the USA are taking a second look at the AussieDoodle, SheepaDoodle, and BerneDoodle. Their inquisitive personality and dreamy eyes will make you melt, but they will also surprise you with their athletic ability to catch frizbees, swim, jog, or pretty much anything you can think of.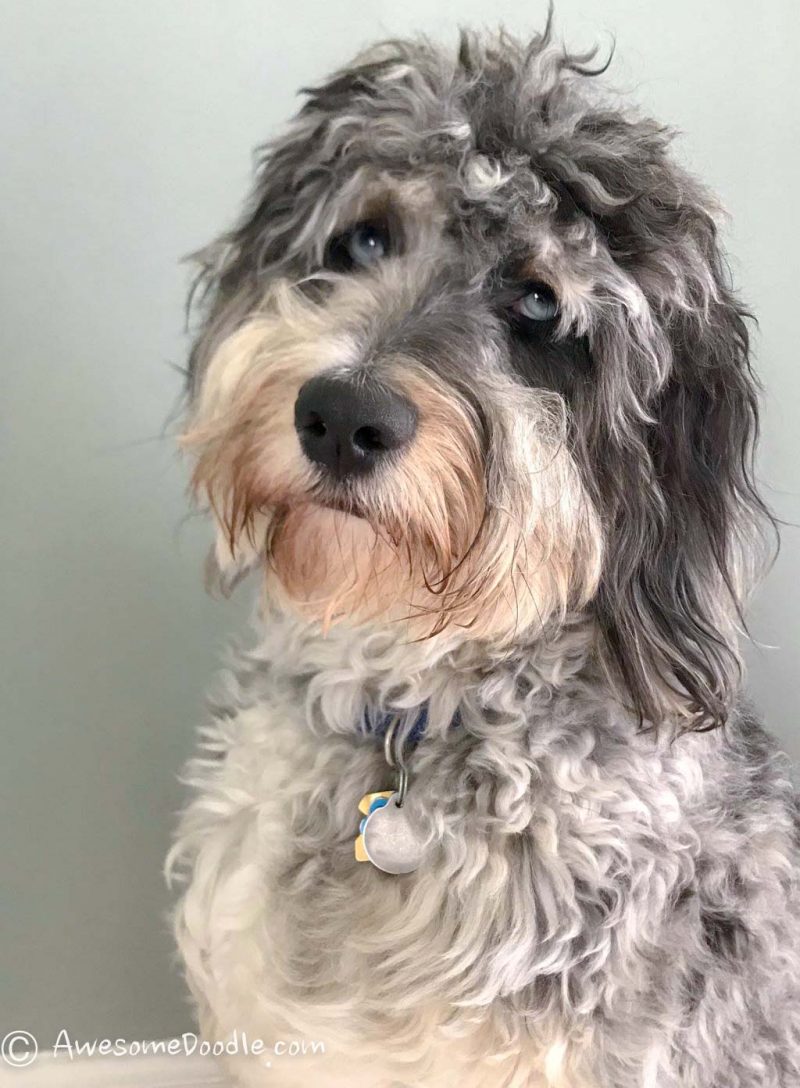 Congrats to: Kim S and family on this Blue Merle w/ Copper F1 AussieDoodle puppy.
Leo (Belle & Cash) turns three in a couple of weeks and continues to be the most amazing dog! He's smart, communicative, gentle, fun, and beautiful. A total gentleman off leash and on. He insists on giving a hug when he wakes up. We have been toying with the idea of getting a second dog. We basically don't plan to ever again get a dog other than an Awesome Doodle. - Kimberly
Congrats to: Carrie and Harwood on this Black Tuxedo F1 AussieDoodle puppy.
First day: "Successful Arrival after driving 6 hours home.  Three Stops, three outside pees.  No car sickness or crying at all.  She is now in the kitchen, exploring her new domain. All in all, the smoothest trip we could possibly have imagined.  Thank you so much.  We are thrilled with Bretta. She is going to be a great addition to our family and we promise to keep updates coming.  We are quite certain we got an incredible Puppy." At 4 months old: "As of yesterday Bretta is fully vaccinated and weighs 16lbs. She is a super sweet energetic girl that loves to eat sticks, play fetch, go for walks and keep our kitty on his toes. Bretta is very smart and learns new commands quickly. She is potty trained, sits, waits, takes treats only on the command ok, lies down and is beginning to learn proper leash manners. She is stubborn and is still jumping a lot and learning what is hers and what is ours, but these are things she is working on and we know that she will get them soon. We have been working with a trainer since we brought her home and she really enjoys her training sessions. We have started putting her through minor obstacle courses in the house and think that she may really enjoy agility training. I'm hoping to teach her to collect sticks in the yard and put them in a bin for our firewood kindling! We are thrilled that she loves being outside so much and can't wait to take her on our first hiking/camping adventure. Bretta has started socialization with other dogs that are friends of the family and she hasn't been aggressive with any of them. Really she hasn't been aggressive with any creature she meets. She is super excited to meet everyone and believes that everyone is her friend and wants to play. The process of getting Bretta was truly great. We loved all the pictures and input on preparing our home for a puppy. The whole process was very supportive and we know that the puppies and Winnie are in a wonderful loving home environment, which is why Bretta adjusted so quickly to her new home. We are thrilled that she is part of the family and can't imagine life without her." Carrie and Harwood
Sam is a Boy, Black Phantom F1 AussieDoodle puppy.
"Sam is 3 years old! He is the smartest, very well behaved, and the most handsome dog 🐶 ever!! We love him and have so much fun with him!!" - Evey
Congrats to: Susan in California on this Red Tri-Color F1 AussieDoodle puppy.
"Kirby is 15 pounds of pure "HAPPY" at almost 11 months old! I have had happy dogs before, but he tops them all! Everyone who meets him sees it. He's so stinking cute too!  Because he is so smart (and adores me) training has been great! He can do a 5 minute sit-stay - even in a store or with other dogs wondering all around him. He comes at "Look!" every time... even the dog I take care of comes at "Look" now. (Training by osmosis.) He loves his teeth brushed; all I have to do is hold up the toothbrush. He even tries to steal my other dog Gypsy's toothpaste! We brush every single day.    Early on I introduced him to my friends cat, and he went swimming several times in my neighbors pool. He goes shopping with me and is hit wherever we go....everyone at the hardware store knows him by name. He's also a huge hit with all the kids in the neighborhood ... there are a lot of variations of how Kirby comes out when they say his name, it's pretty darn cute! We are still working on not getting soooo excited with the kids. It's hard to reign all that happiness in.     Kirby is a super fast runner! I think we will start agility after he's a year old and recovered from his neutering, which I plan to do a little before his one year birthday.   His looks have changed a lot! His red is lighter and brighter (he was almost chocolate when younger) and his face is whiter. His legs and chest are snow white! The photos show the change.    Needless to say I love this little guy to pieces... he has brought so much  joy back into my life after losing my husband and my sweet Wheaten, Joey, over a 18 month period. Happy days are here again! Thank the Lord!" - Susan
Congrats to: Harry and family from Montclair, NJ on this Blue Merle w/ White & Copper F1 AussieDoodle puppy.
"Linus is three months old today! We brought him home a month ago and it is like he has always been a part of our family. He is doing really well sleeping in his crate at night and knows 'sit' 'stay' and 'down.' We are also working on leash training with him. His alter ego "Puppy Piranha" is still pretty fierce but will hopefully calm down soon. He loves to abscond with towels and shoes every chance he gets. Rebecca did an amazing job raising him and we are so grateful for all of the articles and guidance along the way." - Jennifer
Congrats to: Nikki and William on this Apricot Tuxedo F1 AussieDoodle puppy.
We are loving having our little guy, so much love & happiness despite the increased workload - wouldn't change a thing!  Vet appointment went well, said they should have videotaped his exam as he was the perfect example. 
Congrats to: David and Marjorie on this Blue Merle w/White F1 AussieDoodle puppy.
"Lucy is doing great. She likes to chase moths & pounce on them. This is actually quite comical. She loves her tummy rubbed by EVERYONE! Everyone we meet comments on how calm & good she is. I always mention that she has crazy puppy time also. Lucy is very smart as well. I mentioned in an earlier email that she knows our house when walking around the block. She also knows every single house that has a dog even if they're not outside. We have a beehive shaped toy with a hole in it. It's weighted at the bottom like a weeble so it stays upright. We put her food inside. She has to roll it around for the food to come out the hole. Lucy is an expert. Our previous dog couldn't figure out how to get the food out even when we showed her. It took Lucy one time to show her. She's almost potty trained. We haven't had an accident in the house for almost a week. She rings her doorbell almost every time. I know when she has to go a little bit vs. really bad. When she has to go bad, she attacks the doorbell. Training is going ok. She's having a hard time with "come" but sits, lays down & even stay is pretty good. She comes when we call her if we have a treat, but if we don't, she doesn't really come every time. Dave has taught her to roll over as well. I have told everyone about AwesomeDoodle & a few have checked out the website. Thank you again for all your emails, videos & articles." - Ma