Toy, Mini, and Standard AussieDoodle Puppies for sale
AussieDoodle Puppies available, and upcoming litters

Get on our waiting list now, and your family could be picking your new best friend in just a few weeks. Contact us today and we'll reply within a couple hours.
See our upcoming AussieDoodle litters below to see who's getting ready to have another beautiful litter. Who do you like? At AwesomeDoodle, you have lots of choices and are never locked into a particular litter, and our deposits are refundable.
When you pick a newborn puppy from AwesomeDoodle, you get to see where and how it's raised. Watch it on our 24/7 puppy cams in the nursery, and you'll know your puppy's personality before you even get him home.
Available and upcoming AussieDoodle puppies as of
Interested in a puppy from one of these litters? Don't wait.
Secure your position now so you can pick a puppy next week.
AussieDoodle Litters Just Born
The following moms have recently delivered their puppies. Once they are strong and ready, we will be offering these puppies.
Sign up now and there is a good chance you could pick a puppy from one of these litters.
Michelle's TOY sized Sky X Bandit in Waynesboro, Georgia. Born 3-18-2020 (7-12lbs). Puppy picks April 2nd.
Sky X Bandit will be AwesomeDoodle's smallest litter of Toy size AussieDoodle puppies yet. We're pretty dang excited about these cuties.
Marc and Michelle will be raising this litter in Waynesboro GA, not far from Augusta and Atlanta.
Lois's Dani X Gator in Wethersfield, CT, near Boston and New York. Born 3-20-2020
Puppy Picks start April 2nd, 2020 (15-30lbs)
Since Dani's first litter, families have been asking when her next litter is coming. We've been waiting patiently and we THINK she has a litter on the way. We're all crossing our fingers and we know you are too.
Dani was born from Mike's Skyler and then raised by Tom and now is owned my Lois and Mike. She's sweet, she's smart, and knows lots of tricks. She can even put her own toys away in the toy box. Every morning since she was 12 weeks old, Dani demands a "snuggle session" before starting her day.
She's not just a snuggle bunny; she's fast and a doggie disc fanatic. She never misses the disc and will fetch just about anything. She can keep up with you on the trails and snuggle with you on the couch. We can't wait for this litter!
Lois will be raising this litter in Wethersfield, CT.
Susan's TOY sized Honeybee X Champ in Louisville, KY. Born 3-21-2020
Puppy Picks start April 9th, 2020 (10-15lbs)
Awe HoneyBee! How long we have awaited your second litter. Mother nature doesn't seem to cooperate with HoneyBee, as her cycles are a little irregular. But we're hopeful this heat is FOR REAL because we have families asking for her puppies.
Susan and Don are raising this litter in Louisville, KY, and if it's anything like their last, these are going to be the sweetest, cutest things on the planet. Read up on Champ here.
Leah's F1B Pixel X Champ in Indianapolis, IN.  Born March 24th, 2020 (10-18 lbs). Puppy Picks April 9th
We were not quite sure what we were going to get when we made F1B AussieDoodles with Pixel's Sister Via X Gator. Via only had one puppy but WOW, he looks like a little snuggle muppet. We expect the same curly puppies with Pixel X Champ and with any luck, we will have a litter of 3-4 toys size F1B AussieDoodle puppies.
We can't wait for this litter to be born and see what Pixel has. We know she's going to be a great mom and with her puppies being raised by Leah, these are some of the sweetest family raised AussieDoodle puppies you can get.
AussieDoodle Litters Being Born Soon
The following shows moms and dads due to have puppies. You can sign up now to pick a puppy. Our deposit is refundable, and you're not locked in to any particular litter. Contact us and tell us about yourself and why you would make a good home for one of our furry babies.
Mike's Skyler X Gunner near Columbus, OH. Due April 7th, 2020 (30-40 lbs)
Skyler and Gunner live with Mike in Columbus Ohio. Skyler is a well loved AwesomeDoodle momma and we just can't wait to see what her pups with Gunner turn out like. Skyler is a wonderful family dog and loves to play frisbee!  Gunner is loves your attention but is also happy to do his own thing. Both are playful and loving pets. Their pups will be between 30-40 lbs, a great sized dog to "go anywhere" or "do anything"!
Mike and his family will be raising this litter in Columbus, OH.
Rebecca's Penny X Humphrey near Minneapolis, MN. Due April 9th, 2020 (20-30lbs)
Spring time puppies, is there anything better? Penny x Humphrey puppies will be ready to go home early June, so get ready for a puppy lovin' filled summer vacation.
Penny is quite the intellect and athlete. Her puppies are easy to train and very active, not to mention adorable and super snugglers. This is Penny's first litter with Humphrey and we are excited to see what this new match will bring! Humphrey's puppies are well adored. Read more about Penny here.
Rebecca and her family raise Penny and her puppies in Wisconsin, near Minneapolis, MN. Rebecca is also part of the AwesomeDoodle Crew.
Rebecca's Lucy X Humphrey near Minneapolis, MN. Due April 10th, 2020 (30-45lbs)
Lucy is a first time AwesomeDoodle momma but has been watching and learning from Penny. Lucy x Humphrey puppies will also be ready to go home early June, perfect timing with those kido's home from school. Lucy is one sweet, loyal, and loving dog. She is very athletic but at the same time a lower energy dog. Lu is absolutely a Velcro dog, whatever Rebecca wants to do is what Lucy wants to do. Now that she is full grown she is getting quite good at Frisbee! We can't wait to see how her puppies turn out, we know she is going to be a very good mom. Read more about Lucy here. Video coming soon!
Rebecca and her family raise Lucy and her puppies in Wisconsin, near Minneapolis, MN. Rebecca is also the Webmaster of the AwesomeDoodle Crew.
Jennifer's Willow X Gator in Atlanta, GA. Due April 21st, 2020 (10-20lbs)
Willow is a beautiful blue-eyed blue merle with perfect button ears!   She's small but mighty as they say.  All of 15 pounds – she's the smallest of my pups.  However don't let that size fool you!  She is the leader and doesn't let those bigger dogs push her around one bit! She controls the play sessions, making sure everyone plays fair and has a good time – a natural momma.
She's medium energy – will play Fetch as long as you will, but then happy to snuggle up for some couch time. At bed time, she loves her crate and sleeps there, with the door open.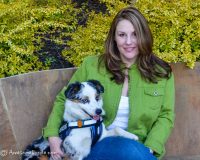 Gator is a daddy to several of our new toy size and mini AussieDoodle puppies. We chose Gator not only for his spunky and friendly personality, but also for his colors. Not only does he produce great colors, but his friendly, playful, and happy go lucky attitude will make puppies that are well rounded, compact, go anywhere family members.
Tom's Envy X Humphrey in Louisville, KY. Due April 23rd, 2020 (20-35lbs)
Only one word can describe Envy: PERFECT. She is spectacular in every way.
Envy is like a little shadow and very loyal to her owners. She has no desire to run after distractions like other dogs or squirrels, and she is more interested in sticking with her humans.
Envy is not a high energy or high maintenance dog. She loves to fetch frizbees or balls, but only needs a moderate amount of exercise per day to remain satisfied. While I don't consider any Aussie a "calm" dog, Envy is one of our most calm Aussies, so that trait may pass down to her off spring.
At 36lbs, Envy's pups are the perfect size for being frizbee stars, agility athletes, jogging partners, swimmers, hikers, campers, boaters, you name it! 25-40 lbs is what we call the "Sweet spot" perfect size for AussieDoodles. They have the stamina to keep up with you on the trails, where as larger or smaller dogs can tend to wear out quicker. We believe Envy's pups will be the perfect combination of athleticism and being more calm when desired, so these dogs will be able to can run the trails one night and the next night, chill with you in the back yard or the living room.
Jordan's Ginger X Champ in Columbus, OH. Due April 27th, 2020 (15-25lbs)
Ginger is Jordan's beautiful 25lb red merle Aussie female.
Ginger LOVES being around her people. She will stick right by your side and her favorite place to be is in your lap. Ginger never meets a stranger; she is always excited to meet new people and she warms up to everyone and wins their heart very quickly. She also really enjoys meeting and playing with other dogs.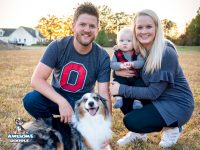 She is 24 lbs. and stands about 15 inches tall. Her pups are the perfect mini size if you are looking for a pup who will be a cuddly lap dog, but also not super tiny. We are so excited for Ginger X Champ pups.
Mike's Pumpkin X Champ in Columbus, OH. Due May 1st, 2020 (15-25lbs)
Pumpkin's personality is bubbly. She's always happy to see you, always ready to snuggle. When you get home, Pumpkin is patiently waiting and tries to contain her excitement, as she hopes she is the first thing you touch. I wouldn't call Pumpkin a "velcro" dog, but she's never far away. She rarely barks, she doesn't chew up anything, and she is not a digger. She is about 20lbs, so we expect Pumpkin's puppies to be in the 20lb range and sweeter than ever. Pumpkin's sister is Juno, another well loved AussieDoodle momma.
Champ's puppies are new this year and are wildly popular! His little doodles are sweet and petite. Check out his past puppies here. We call him "little champy" and he comes to us without even thinking about it. At
Mike's house, he has four human brothers and sisters and loves them all, even Mike's 2 year old son. If you're looking for a portable, loyal pal, consider a Champ puppy.
Mike and his family will be raising this litter in Columbus, OH.