Toy, Mini, and Standard AussieDoodle Puppies for sale, plus SheepaDoodles!
AussieDoodle Puppies available, and upcoming litters

Get on our waiting list now, and your family could be picking your new best friend in the next few months. Contact us today
See our upcoming AussieDoodle litters below to see who's getting ready to have another beautiful litter. Who do you like? At AwesomeDoodle, you have lots of choices and are never locked into a particular litter. If you change your mind, our deposits are refundable for one year within the 48 states.
When you pick a newborn puppy from AwesomeDoodle, you get to see where and how it's raised. Watch it on our 24/7 puppy cams in the nursery, and you'll know your puppy's personality before you even get him home.
Available and upcoming puppies as of July 6, 2020
Get Instant info, including fee ranges, availability, and how to get approved:
Interested in a puppy? Don't wait.
Secure your position now, so you can pick a puppy as soon as possible.
Litters Just Born
The following moms have recently delivered their puppies. Once they are strong and ready, we will be offering these puppies.
Tammy's Molly X Gator in Sioux Falls,
SD.

Born July 4th 2020 (15-25lbs) Puppy Pick start July 23rd.
Gator is back! With a gorgeous girlfriend named Molly. And best of all, the person behind the scenes with Gator's mom has finally agreed to be part of the AwesomeDoodle Family.
We've been working with Tammy for a couple years are are excited to have her raising Gator and Molly's litter. We're so excited to see these pups, especially because we expect a couple red merles and there's always a chance for a cream color.
Molly is a happy go lucky Aussie who loves to play and always staving for attention and human touch. With Gator's spunky attitude, their puppies will make great family friends under 25lbs.
Tammy will be raising these puppies in Sioux Falls, SD.
Jordan's Maggie X Ranger in Columbus, OH. Born July 6th, 2020 (25-35lbs) Puppy Pick start July 23rd.
Maggie is considered a small standard / large mini at about 38lbs and 19″ tall. Her Sire and dam were both champions. If one could "mold" the perfect dog, it would be Maggie. I've never seen this girl get tired! She has her calm time, but very much enjoys her playtime, and is always ready to go. Like most Aussies, she wants to be right beside you enjoying a belly rub or simply snuggle with us when we watch tv.
Ranger is a red poodle just like Humphrey, and we expect his puppies to look very similar. Bio and video on Ranger coming soon!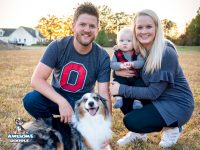 Jordan and his family will be raising this litter in Columbus, OH.
Mike's Ivy X Gunner in Columbus, OH. Due July 4th, 2020 (30-40lbs)
Finally Ivy is ready! We kept Ivy when she was a puppy from a litter managed by Mike. Tom and Mike were deciding who gets to keep her! She's a gorgeous girl and has the personality to go with it.
Confident, yet submissive, playful yet not hyper, Ivy is a pleasure to be with and the type of dog that any family would adore as a pet.
Mated with Gunner, we're pleased and excited to offer you this litter. If you're interested in a puppy from Ivy and Gunner, make sure your size preference goes up to 40lbs. We absolutely love this size for hiking, swimming, and even therapy dogs.
Nancy's Penny X Champ in Columbiaville, MI. Due July 17th, 2020 (10-20 lbs)
Penny is one happy girl. She loves to be outside all day, exploring, swimming, and keeping the alpaca barn in check. In the evenings she is ready for her snuggles! This is Penny's first litter and we just know she will love being a doodle mamma.
Champ enjoyed meeting his new lady Penny, together they will have amazing happy little AwesomeDoodles. These pups are petite but active and athletic enough to keep up with you on pretty much anything.
Nancy and her family will be raising this litter in their home in Michigan.
Diane's Maddie X Gunner in Louisville, KY. Due July 22nd, 2020 (20-30 lbs)
You've probably heard me say AussieDoodles have a "happy go lucky" attitude? That's Maddie. She LOVES everyone, even strangers. She borderlines on being "In your face." But wow, this girl is a lover and wants love from everyone.
Check out Gunner's past puppies here. They are so cute and fluffy! Gunner is such a good boy and we just love his pups.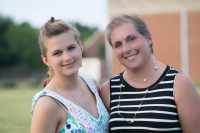 Diane and her daughter Morgan will be raising these puppies in Louisville, KY.
Natalie's LibbyX Rocket near Dallas, TX. Due July 30th, 2020. (25-45 lbs)
Libby is our standard size red merle beauty. She is very laid back and loves to be right by your side. She'd rather follow Natalie around all day then c Libby's puppies are great family dogs; they are loyal, attentive, and affectionate dogs.
Rocket is Natalie's main man. His color genetics throw all different colors and patterns on his puppies. We can't get enough of them! He loves to play ball and fetch.
He es
pecially loves the boat and the lake. He can't wait to get in the water and you can't keep him out of it. Rocket is super laid back, super loving to all of his family and everyone that comes around and is extremely loyal. For a poodle, he loves to snuggle on the couch and is very affectionate.
Kindel's puppies will be raised near Dallas, TX with Natalie and her husband Kris.
Shannon's F1b Zinnie X Humphrey in Ohio. Due August 5th, 2020 (25-40 lbs)
Zinnie is a blue merle AwesomeDoodle and her parents are Winnie and Cash, two of our most amazing pets. Her puppies are F1B mini AussieDoodles, giving  them have even less of a chance for shedding and allergens.
Humphrey is one of our most popular daddies. See his past puppies here.
Shannon will be raising this litter in Bryan, Ohio.
Diane's Gracie X Charley in Louisville, KY. Due August 5th, 2020 (10-15 lbs)
Gracie's toy sized AussieDoodle puppies are not just adorable, but they are smart little buggers too! Her pups are toy sized, easy to take with you anywhere.
This is Charley's debut! He is the sweetest little poodle boy and we can hardly wait to see his beautiful puppies!  We expect a rainbow of colors, similar to Rocket's puppies only in a much smaller package.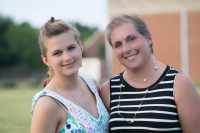 Diane and her daughter Morgan will be raising these puppies in Louisville, KY.
Leah's F1b Via X Charley near Indianapolis, IN. Due August 8th, 2020. (10-15lbs lbs)
Via is one of our small AussieDoodle mamas. Her puppies with Charley should all be around 12-15 lbs and have curly F1b coats with no shedding. Via loves to leap, fetch, and chase. She is a very agile, clever, and independent (but affectionate) dog, that plays hard and crashes hard. She loves her puppies and also her sister Pixel's babies.
Charley is the new guy in town and we can't wait to see his gorgeous pups. They will look similar to some of Rocket's doodles.
Via is a great mom and with her puppies being raised by Leah, these are some of the sweetest family raised AussieDoodle puppies you can get.
Jennifer's Lulu X Gator near Atlanta, GA. Due August 14th, 2020. (10-25 lbs lbs)
Sweet little
Lulu is a is an absolutely stunning mini red merle aussie with two baby blue eyes. She is THE PERFECT family dog! She has never met a stranger, and is known to even get her feelings hurt if strangers don't stop and play with her. Playful, smart, and loyal are just some of the best words used to describe her.
Gator has petite and very sweet little puppies. His puppies are well rounded and compact so you can take them along anywhere, which is exactly what they want! We are thrilled to be expecting this litter!
Jennifer and her family who live near Atlanta, Georgia and will be raising this lovely litter.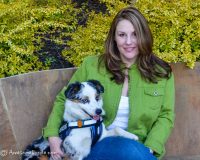 Dana's Puzzle X Charley near Toledo, OH. Due September 1st, 2020. (15-25lbs)
Puzzle is a very small mini Aussie with stunning blue eyes. She's a moderate energy dog overall. She's likes to be outside especially if it's not too hot. When it's hot out, she likes to lounge around in the kiddy pool. She's likes to be close to Dana but is happy spending time with anyone who will give her some attention. Definitely a happy go lucky girl!
This is Charley. He is the sweetest little poodle boy and we can hardly wait to see his beautiful puppies! We expect a rainbow of colors, similar to Rocket's puppies only in a much smaller package.
Dana, Shannon's mother, will be raising this litter in her home near Toledo, OH.
Shannon's Dixie X Charley near Toledo, OH. Due September 2nd, 2020. (10-15lbs)
Dixie's little toy puppies are so sweet and adorable, just like her! Dix is only 10lbs, but what she lacks in size, she more than makes up for in speed, agility, and stamina. She is not a velcro dog in any way, but she loves to sit by you and be cuddled.
Charlie is a very confident and bold little guy. He loves all people and can't wait to meet strangers. He plays with all the other dogs nicely and has never shown any aggression towards other dogs or humans.
Dixie's AussieDoodle Puppies are raised by Shannon and her family in Bryan, OH.
Raffi X Indy SheepaDoodles. Some of these will be merle! Due August 12th  (50-75lbs)
More details coming soon.
Anna X Indy SheepaDoodles. Some of these will be merle! Due August 14th  (50-75lbs)
More details coming soon.
LaDonna's Anna Claire X Rio, near Little Rock, AR. Due September 13th, 2020. (50-65lbs)
Details coming soon!