Morgan and Diane
Raises: F1 AussieDoodles

Home Town: Louisville, KY

Airport pickup: SDF (Louisville, KY)
Morgan & Diane - Raising the most Affectionate Toy and Mini AussieDoodles
Diane and Morgan raise their toy and mini size AussieDoodles in Louisville, KY. Their puppies are some of our most wanted, because of the extra time they spend in the puppy box, handling the pups.
When I (Tom) first saw Morgan in our neighborhood (in Louisville), walking her dog on a "loose leash," I asked her if she was a dog trainer. She said, "No, I just like walking dogs." Then I asked her what high school she goes to, and if she would like a job walking dogs. She replied, "Yes but I'm in 8th grade and I'll have to ask my mom." ha ha!
After some time, I gave Morgan a job walking my adult dogs every day after school. Then, she started taking care of our puppies. She would come to the house and carry a puppy around, as she was cleaning the floor. Sometimes I have to tell her to put the puppy down and get to work! When I have puppies here, she spends at least 30 minutes every day, playing and loving on all the puppies.
Morgan and her mom, Diane, took a liking to my Aussies and of course the puppies. Several months later, we found two Aussies for Morgan and Diane. These dogs came to us from one of the top breeders in the country. In fact, Maddie is a "cousin" of Mini Poochie.
Diane and Morgan have now raised several litters with AwesomeDoodle. The feedback we get from their puppy owners is always A++. Morgan and Diane give the puppies so much love and attention and stimulation too. Morgan carries those lil wuppies around like human babies and the result is these puppies REALLY trust and love humans. We are so lucky to have Diane and Morgan in the AwesomeDoodle Family.
Morgan & Diane's Pets:
Skye is a 35lb Australian Shepherd and makes the cutest F1 AussieDoodles
Skye is one of our most beautiful Aussies and her temperament and personality shine. When Skye meets strangers, she's always happy to be pet by them almost instantly, which is rare for an Aussie. Skye loves playing with the other dogs, including new dogs she's just met, but given the choice, she would rather by closer to her humans than the other dogs. Skye is comfortable riding in the car, going to other homes, and happy to go to the pet shop or home depot. Skye isn't a digger, she doesn't bark very much, and she doesn't have any weird behaviors. Best of all, she doesn't have a mean bone in her body and we've never even heard her growl; …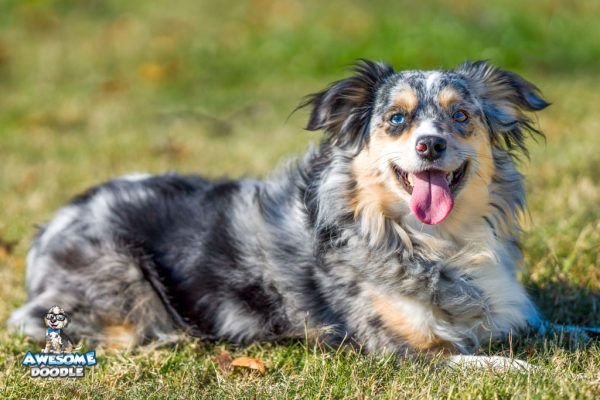 Petunia is a 29lb Australian Shepherd and makes the cutest F1 AussieDoodles
Petunia is very sweet and loving, gentle dog. She is cautious of strangers at first and likes to let us know when someone pulls in the driveway. But give her 15 minutes and she will be begging you to pet her more. She loves playing with other dogs and leans on the more submissive side. She entertains herself by throwing toys around the house, picking them up and throwing them again. She loves her squeaky toys and of course her goal is to get the squeaker out. She loves loves to fetch the ball. She will go for a walk any time and rides well in the car. Petunia is a very loyal to her owners and tends to stick …