Miss Grace X Humphrey F1b AussieDoodle Puppies
Estimated Size: 25-35lbs
Born: January 31, 2021
Go Home Dates: March 28, 2021 to April 3, 2021
We cannot coordinate puppy nannies for this litter
Colors possible in this litter
Twix – Black Phantom AussieDoodle
Congrats to: Wendy and family from Humble, Texas on this Boy
"Twix Thunderpaw is the cutest little busybody around. He is learning how to walk on a leash without tripping us left and right....definitely a work in progress 😄 but he's mastered sit, down, and shake. Smart little guy (Thank you Martha❣️)"
Shelby – Black Phantom AussieDoodle
Congrats to: Mark and family from Emerson, New Jersey on this Girl
Lilou – Black Phantom AussieDoodle
Congrats to: Mary and family from Dallas, TX on this Girl
"Our little Lilou is truly an AwesomeDoodle. She is a very good girl — beautiful, sweet and funny. She already knows the commands 'sit' and 'come', is well on the way to being house-broken and loves playing in our yard. Looking forward to all the adventures we will have with this outstanding creature!! ❤️🐾🐶"
Sgt Pepper – Black Phantom AussieDoodle
Congrats to: Leslie and family from Saint Petersburg, FL on this Girl
"I had a great experience with Awesome Doodle and with Martha. I think it's great how this website can connect you to family breeders around the country who you know are going to provide a loving childhood home for the puppies to grow up in during some of the most pivotable weeks of their lives. I loved being able to see my puppy in the web cam and had it open as often as I could. My coworkers and I would watch it at work, trying to figure out which puppy was mine. By the time I went to pick up my puppy, I knew all the dogs by name. Sgt Pepper loves people more than anything, and she loves to cuddle. She was timid at first, but has become brave. We go swimming at the beach, kayaking, and playing at the park. She has beautiful copper markings that are getting more visible as she gets older. She weighs around 20 pounds and has gotten nice long poodle legs. She is full of personality and life. She is such a great dog and worth the wait."
Luna – Phantom Blue Merle AussieDoodle
Congrats to: Gregory and family from Virginia Beach, VA on this Girl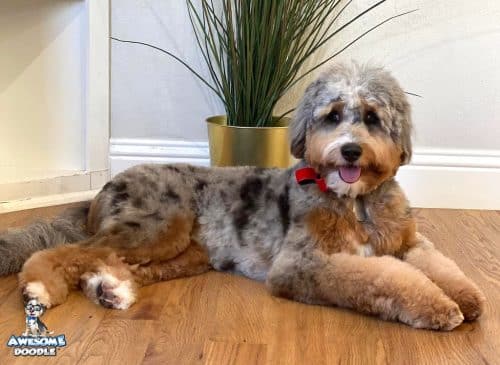 Kevin – Phantom Blue Merle AussieDoodle
Congrats to: Synthia and family from Fort Worth, Texas on this Boy