Zinnie
Breed: F1 AussieDoodle
Weight: 45lbs
Makes: F1b AussieDoodles
Zinnie - She is an adorable F1 AussieDoodle with lots of love!
Zinnie is a blue merle AwesomeDoodle and her parents are Winnie and Cash, two of our most amazing pets.
Winnie is the Australian Shepherd that started it all and we are also excited that Zinnie will carry-on her legacy of producing some of the smartest, most intuitive and affectionate puppies that we've seen. She lives with Shannon, Maya and three other dogs; two old English sheepdogs, Hendrix and Piper, and our up and coming toy Australian Shepard, Dixie. Watching them play and herd each other in the yard is the best part of my day. Zinnie is super athletic. She's fast and agile but she's also always the one getting chased because she makes the rules and she outsmarts everyone. It's so funny to see her trick the giant sheepdogs by ducking behind a bush or car and watching them run past her. They get so confused and then she pops out like, "Surprise!", and off they all go again. She's also very obedient. Even though all the dogs are trained to do the same thing like obey door manners and not steal food that's been dropped on the floor, Zinnie is the one who rarely breaks a rule. She will watch her three siblings go running through an open door and just sit down and look up at me, almost as if to say, "Are you really going to let them get away with that?" When I call her, she comes even if she's in hot pursuit of a squirrel.
Most people who meet my dogs favor Zinnie because she's the most affectionate and seems to know how you feel and what you need. Her intuitive nature makes her very human like and very special. As a puppy she was very high energy and struggled with self-control. For example, she knew that she wasn't supposed to jump up on people and you could just see how difficult it was for her to try to control that. She would catch herself mid jump and then have to step away and wiggle like crazy to get the energy out. She absolutely loves affection and attention but she's not a Velcro dog and she's not possessive. Once you start to pet her though, you're on the hook. You can't escape and she will practically wrap herself around you or nudge your hand if she is sitting next to you. We can't wait to see what kind of momma she will be!
Zinnie's past puppies:
Congrats to: Teresa and family from Plymouth, MI on this Girl Black Bi-Color F1b AussieDoodle puppy.
Congrats to: Matt and family from Rochester Hills, MI on this Boy Phantom Blue Merle F1b AussieDoodle puppy.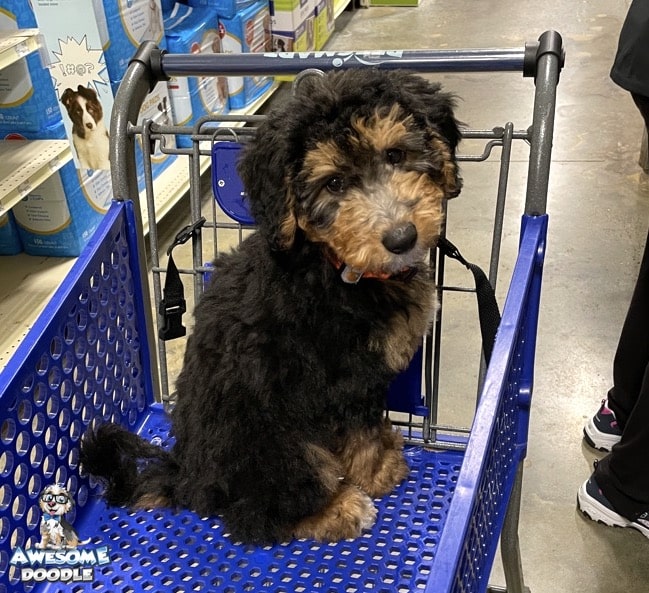 Congrats to: Todd and family from Columbus, NJ on this Girl Black Phantom F1b AussieDoodle puppy.