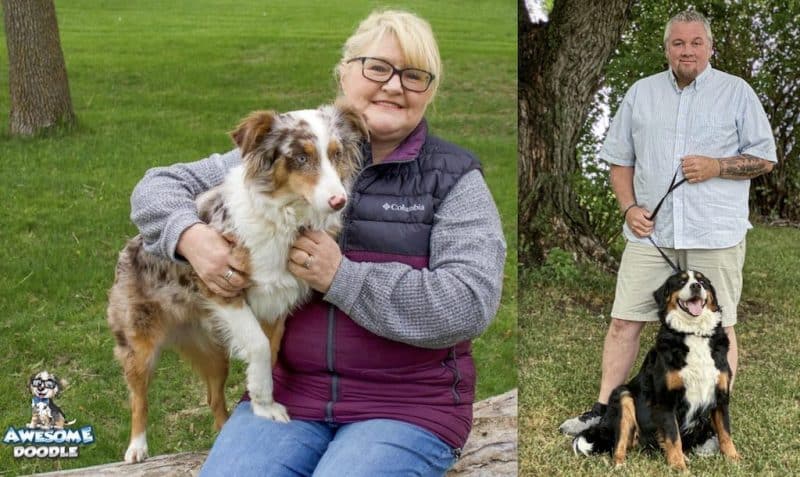 Tammy
Raises: F1 AussieDoodles, F1 BerneDoodles, F1 SheepaDoodles, F1b BerneDoodles

Home Town: Sioux Falls, SD

Airport pickup: FSD Sioux Falls, SD
Tammy and Dana - Raising the most socialized BerneDoodle and SheepaDoodle Puppies.
Tammy and Dana are a full time husband and wife team. They are both retired from the medical field and now raise AussieDoodles, BerneDoodles, and SheepaDoodles in Sioux Falls, SD. Their daughter Britt, who is a part time dog groomer, is also part of the AwesomeDoodle team. Tammy has been consumed by dogs since she was little. She has showed AKC Airedales, and Jack Russels. Her family is also extreme ice hockey players and fans.
"We have been involved with dogs all of our lives and they are a passion of our whole families. Our kids are grown now but 2 of them live close by. We live on a small acreage and love to give our dogs fun activities and adventures. They get lots of room to run and play and our undivided attention in the house. All of our dogs are happy, social well rounded dogs. I can't wait for you to meet your new puppy!"
They have three children one 5 year old grandson. Her grandson's "JOB" is to play with the puppies, and he tells us his #1 job is "poop patrol".
Tammy and Dana's Pets:*
Miley is a 20lb F1 BerneDoodle and makes the cutest F1b BerneDoodles

Upcoming Litter(s):

Miley X Max

F1b BerneDoodles

Cici is a 63lb Bernese Mountain Dog and makes the cutest F1 BerneDoodles

Mollee is a 50lb F1 BerneDoodle and makes the cutest F1b BerneDoodles

Blossom is a 50lb Old English SheepDog and makes the cutest F1 SheepaDoodles

Midge is a 22lb F1 BerneDoodle and makes the cutest F1b BerneDoodles

Raffi is a 60lb Old English SheepDog and makes the cutest F1 SheepaDoodles

Upcoming Litter(s):

Raffi X Max

F1 SheepaDoodles

Sky is a 55lb Bernese Mountain Dog and makes the cutest F1 BerneDoodles

Upcoming Litter(s):

Sky X Rio

F1 BerneDoodles

Maddee is a 48lb F1 BerneDoodle and makes the cutest F1b BerneDoodles

Upcoming Litter(s):

Maddee X Rio

F1b BerneDoodles

Rio is a 57lb Poodle

Upcoming Litter(s):

Maddee X Rio

F1b BerneDoodles

Sky X Rio

F1 BerneDoodles

Indy is a 55lb Poodle

Joplin is a 45lb Poodle and makes the cutest F1 SheepaDoodles

Memphis is a 50lb Poodle