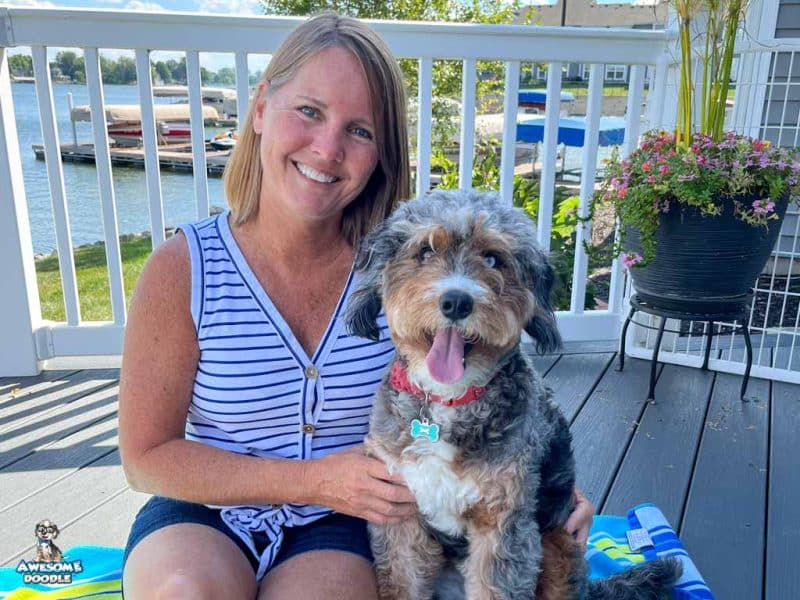 Angie
Raises: F1b BerneDoodles

Home Town: Noblesville, IN

Airport pickup: Indianapolis, IN
Angie -
Hello, I'm Angie. I'm excited to be a part of the AwesomeDoodle family.  I am the website media manager for AwesomeDoodle, and I also raise F1b bernedoodles, with our f1 mini bernedoodle, Zuri. I retired in 2021 from 30 years as a dentist and am now opening a new Camp Bow Wow in Noblesville for doggy daycare and boarding. It feels natural to me to go from caring for peoples loved one's dental care to their pet's care.
Zuri's puppies get lots of snuggle time, since I am usually home and have the time to spend with her each day. With 6 grown children and 10 grandchildren cuddling on her puppies, they grow up to be affectionate and intelligent dogs.
If you're looking for an exceptionally intelligent, non shedding, gentle BerneDoodle who loves kids, riding in the car, and going everywhere with you, you may want to consider a Zuri puppy. Her puppy owners from her previous litter rave over their dogs.