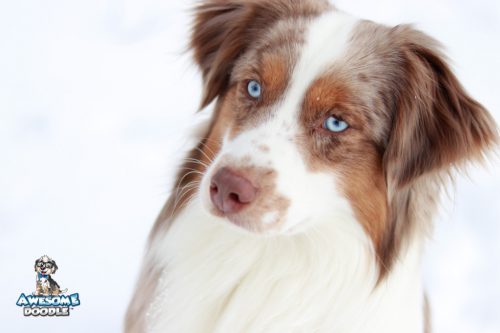 Meet Thor, the Super Aussie who will melt your heart. He's the perfect family dog. He will alert you when someone comes on your property, but we're not sure if he's being protective, or he just wants to meet someone new. After a few barks, he will warm up to strangers. He loves with play with the other dogs and is not overly dominant or submissive. He is a happy go lucky dog and is loyal to his family.
Thor is owned by:
Meet Jordan. Jordan is raising AussieDoodles near Columbus, Ohio. He's got "country" in his blood, and "family" in his heart. What shines most about Jordan, is his love for his Aussie Doodle Puppies. Jordan is one proud doodle daddy, and for good reason. Aside from his dogs being absolutely gorgeous, they are well trained, athletic, and best of all, super affectionate. Jordan has years of experience raising Aussies. To say that Jordan is "addicted to aussies" is an understatement.  When you ask Jordan why he likes it so much, he'll tell you it's the smiles [read more]
Kali is a stunning female Red Merle AussieDoodle. Her dark chocolate markings contrast beautifully against the snow white on her snout, head, legs, and chest. She has one ear that is darker than the other--so, so perfect. We think she'll resemble Whiskey. Congratulations to Alma and John for choosing this little doll!