Harley Quinn X Rocket F1 AussieDoodle Puppies
Estimated Size: 25-40lbs
Born: March 26, 2023
Go Home Dates: May 21, 2023 to May 28, 2023
Limited puppy nanny flights, please inquire ahead
Colors possible in this litter
Arlo – Blue Merle w/ White & Copper AussieDoodle
Congrats to: Amanda and Connie and family from BISHOP, GA on this Boy
Varuna "Ru" – Black Phantom AussieDoodle
Congrats to: Peggy and family from Eastsound, WA on this Girl
Waffles – Red Phantom AussieDoodle
Congrats to: Christine and family from Trussville, Alabama on this Boy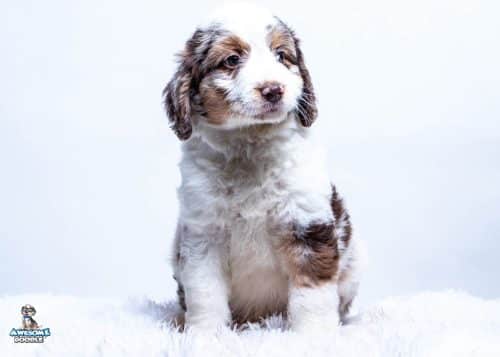 Jasper – Red Merle w/ White & Copper AussieDoodle
Congrats to: Chris and family from Simpsonville, Sc on this Boy
Angel – Phantom Blue Merle AussieDoodle
Congrats to: Kathryn and family from Parkland, FL on this Girl
"We chose the name Sparkle before our puppy arrived. When we realized how sweet she is, we renamed her Angel. This being our first pup, it is hard to believe how sweet and well behaved she is. She truly is our little Angel. We are grateful for the joy that Angel inspires in us and in everyone she meets. The VIP information on the Awesome Doodle site has been a big help with bringing Angel into our home, and in training us how to be Angel's people. Many thanks to the Awesome Doodle Family!"
Blaze – Blue Merle w/ White & Copper AussieDoodle
Congrats to: Brittany and family from Richardson, Texas on this Girl
Nauset – Red Tri-Color AussieDoodle
Congrats to: Emily and family from Collegeville, PA on this Girl
"First off, thank you for making the process of getting a puppy (a first for our family—we have never had a dog) so enjoyable. Second, the guides and videos, suggestions of toys/treats/crates were invaluable. And lastly, thank you for giving us the missing piece to our family puzzle. My husband and I have one daughter, now 9. We fell into our routine and were very happy just being the "three musketeers". It's a hard transition to go from your uninterrupted daily schedule of 3 to having a puppy (aka newborn). But we literally can't imagine what life without her would be like. She's SUCH A GOOD DOG!!!!! We stuck to all your advice and training and everyone says she's a polite puppy with a BIG personality. Nauset does her commands flawlessly (sit, stay, "more"—taps our knee with nose instead of jumping for food)—unless she's mad about something then she acts a tad sassy which is still cute😂. But she loves us too much to hold onto it. She is absolutely gorgeous—we get stopped daily and asked where we got her and always point them in your direction. Most of all, Nauset knows we are her people and she is our family—we would do anything for her. We love her so much and she shows us love everyday. My daughter got her fur sister and Nauset has completed our family without a doubt."