Annie - She is a compassionate, fun-loving Australian Shepherd!
Annie is the daughter of TaterTot. Look at that face! She is a large mini / small standard AussieDoodle, around 45lbs. She has completely clear DNA health testing. Annie is an exceptional dog, raised by Natalie herself. I (Tom) have had the opportunity to spend a good amount of time with Annie, both in Texas, and in Kentucky. I absolutely love her. Why do I love her so much? She's fun, but not too much energy. She's well behaved and doesn't jump on me. She welcomes strangers and isn't fighting for attention with the other dogs. She hangs back and waits her turn for attention. She loves affection and being by your side, but she is not a velcro dog and can also venture off by herself and explore. Annie is built strong. She is thick boned and gorgeous. If I had my way, I would dog-nap both Patches and Annie and bring them back to Kentucky. Personally, I would love a puppy from either Patches or Annie. Annie is just as comfortable snuggling up on the couch, as she is running and playing outside. If you want an affectionate dog who will play Frisbee, go hiking, swim, jog, camp, go boating… you name it, Annie is your girl.
Annie's Past Puppies
Congrats to: Beth and Brian from Ohio on their new puppy Niko! on this Red Phantom AussieDoodle  F1 AussieDoodle puppy.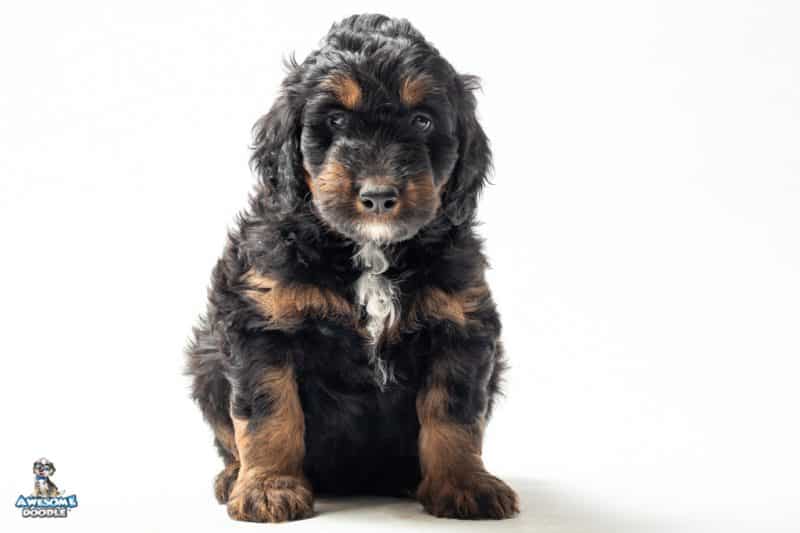 Congrats to: Erin and Chris in Massachusetts on this Black Phantom AussieDoodle  F1 AussieDoodle puppy.