Allie
Breed: Australian Shepherd
Weight: 55lbs
Makes: F1 AussieDoodles
Allie - She is a beautiful red merle Australian Shepherd.
Allie is a beautiful red merle small standard Aussie, with two blue eyes and very distinctive facial markings.
She is sturdy, measuring almost 21 inches tall and weighing 55 lbs. She is registered with the American Stock Dog Association. She has completed her genetic testing panel and has tested clear for genetic defects. I have raised Australian Shepherds with my daughter Natalie before she moved to Texas and became and AwesomeDoodle partner.
We live in a small town in eastern Ohio. We have three cats and my niece Sara living with us. Allie is the newcomer, but has easily become the center of attention. Sara and I work different shifts, so we share in the care of Allie. She is never home for more than a few hours on her own. She doesn't need to be in a crate when we are not home. Allie loves her bones. She has them stashed all over the house. If I sit still for too long, she will try to hide one behind my back. Allie stays close to me when we are at home. It is rare that she will let me leave a room without following me. She sleeps on the floor in my bedroom, but when the alarm clock goes off, she jumps on the bed to get some snuggles before we start the day. She is with me when I make coffee, feed the cats, take a shower, and get ready for work. She loves to lay on the bed and watch me dry my hair. When she sees me getting ready to leave, she sits by the snack jar and waits for her good bye treat.
Allie enjoys taking a walk through our neighborhood on a leash. She is a little shy towards new people, she tends to back away for them at first. But after some time, she has made friends along our route. People always comment on how pretty she is and how they love her blue eyes. She barks when someone knocks at the door, but greets them with a wagging tail when she sees it is someone she knows. She is eager for attention, praise, and treats. She was quick to learn simple commands of sit, stay, lie down, and come here.
Allie is very good with other dogs. She hasn't met a dog that she doesn't like. Her favorite friend is her dog cousin Oscar. Allie always loves to ride in the car. She gets especially excited when she realizes that we are on our way to visit Oscar in the country. Oscar lives on 40 acres with a lake. The two of them run for hours. It is hard to tell who is chasing who. She loves to play in the water.
Allie's past puppies: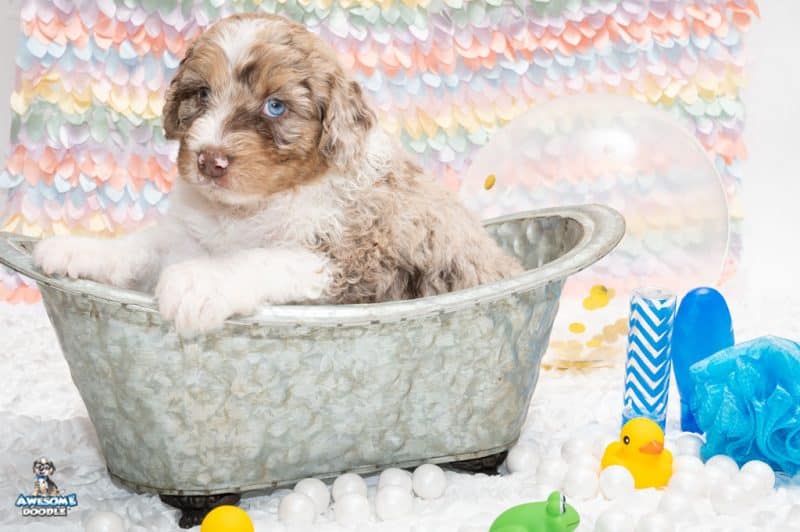 Congrats to: Paul and family from Greenfield, IN on this Boy Red Merle w/ White & Copper F1 AussieDoodle puppy.
Congrats to: Katie and family from Bellingham, Ma on this Girl Blue Merle w/ White & Copper F1 AussieDoodle puppy.
Congrats to: Lei and family from Mesilla Park, NM on this Girl Red Merle w/ White & Copper F1 AussieDoodle puppy.