Zuko (Zuzu) is a male Blue Merle w/ White & Copper F1 AussieDoodle puppy.
Congrats to: Brooklynn and family from Tulsa, OK on this Boy, Zuko (Zuzu).
AwesomeDoodle puppy review / comments submitted by Brooklynn and family from Tulsa, OK on their F1 AussieDoodle:
"I thought I'd send a little update because we are very proud of our little Zuko! He is sleeping peacefully through the night, mostly only pottying outside, and has learned his name, Sit, Wait, Come, Down, and is currently learning how to sit and wait at doors instead of bolting out ahead of us. He's also been to Lowe's and Pet Smart a few times and has had a few playdates with other dogs. Thank you for all the helpful resources, we've learned so much from your videos and articles! I just wanted to send an update! We love AwesomeDoodle and already recommend adopting dogs through y'all to everyone we know, haha!"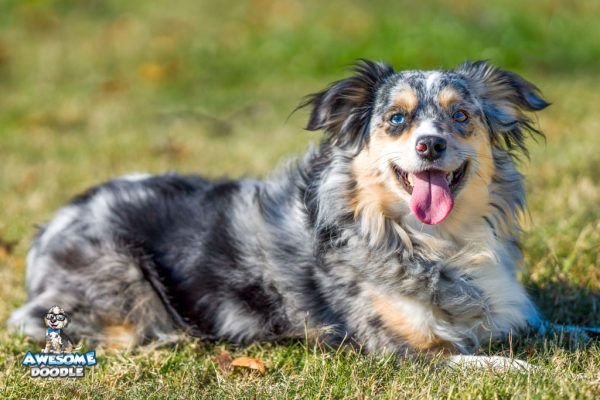 Born: June 29, 2021
Estimated Size: 15-30lbs
Go Home Dates: August 24, 2021 to August 31, 2021
Notes: Possible delivery to Baltimore, MD on 8/29 ONLY for $300. Inquire ahead.