Khloe -
Look at that cute face! LOVE BUG! this is the best words to describe Khloe. Khloe is a small standard poodle, she is well rounded, she loves everyone she meets, we have two cats and she thinks they hung the moon, children are at the top of her favorites list as well. Throw the ball and she is the first to get it and prances around like the proudest poodle in the show ring. Khloe is 43lbs, 22" tall, AKC registered, Khloe's genetic tests are all clear. Khloe is great laying around on a rainy day or going out with the family on a sunny day hiking and fishing, she is truly up for what ever we are doing. Khloe loves other dogs, she welcomes them to play anytime. She is a wonderful, affectionate, loving silver beige standard poodle. When we are all watching television, Khloe always crawls up in my lap and turns up side down with her legs dangling in the air and goes sound to sleep. We got Khloe when she was 7 weeks old, We had her work with a professional trainer for about 3 months and she thrived in her training of manors and commands. Poodles are very intelligent dogs, they are among the top three breeds in the world for high intelligence. Khloe is no exception, and she is a true joy to have around as a companion. Her home will always be with me. It only takes one sentence to describe Khloe: "Khloe is all about the LOVE" .
This dog is no longer making puppies, and is living in it's furever home with it's furever family.
Khloe's past puppies: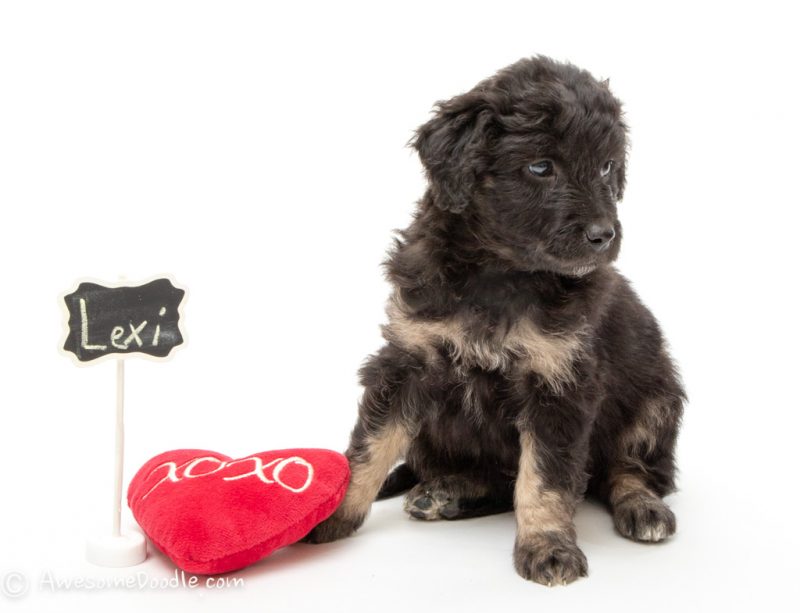 Congrats to: Adam and Stacy in Oklahoma on this Girl Black Phantom F1 AussieDoodle puppy.
Congrats to: Mark and Judy in New Jersey on this Boy Black Tuxedo F1 AussieDoodle puppy.