Lexi is a female Blue Merle w/ White & Copper F1b AussieDoodle puppy.
Congrats to: Tracy and family from Kiowa, Co on this Girl, Lexi.
AwesomeDoodle puppy review / comments submitted by Tracy and family from Kiowa, Co on their F1b AussieDoodle:
"We've had our Aussiedoodle now for 3 ½ weeks and she is super sweet, fun and smart. We finally had good success with potty training by the 3rd week, she's 100% outside or in the litter box if we aren't quick enough. Lexi thinks everything in life should be approached with eagerness and excitement. She has mastered sit, look, leash, let's go, go to bed, her name and here even under distraction and off leash almost 100%. She's still working on not jumping, she gets a little over excited sometimes and just can't quite help herself yet, but it only takes a little ignoring before she is sitting politely. She does bark and ask for a treat though if you take too long when she thinks she deserves it! She's had her first haircut and did really well with everything, she loves the blowdryer and bites the air when it hits her face! She's happy to go get a toy and play by herself while we are doing things around the house…she throws it around and chases it by herself. She's great at her crate, she puts herself in bed at night without a peep about 9pm, she has a small playpen with litter box and 2 toys in her crate and we don't hear from her until we get up around 6, she's always laying in her bed when we get up so not sure how long she would actually stay in there. She's happy to stay in her crate patiently when I need to go outside for a bit or take the other dogs out, she does very well. She's very sweet, well-adjusted and even at her most excited moment you can still get her attention about 98% of the time and help her be productive. We've had so much fun with her, she's just a little bundle of happy."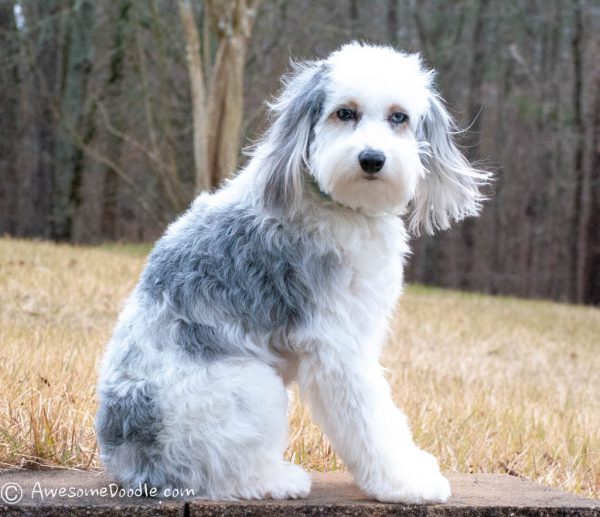 Born: February 13, 2021
Estimated Size: 15-25lbs
Go Home Dates: April 10, 2021 to April 17, 2021