Boomer is a male F1 SheepaDoodle puppy.
Congrats to: Heather and family from Blue Mounds, WI on this Boy, Boomer.
AwesomeDoodle puppy review / comments submitted by Heather and family from Blue Mounds, WI on their F1 SheepaDoodle:
"Boomer has become our do anything, go anywhere, no questions asked pup. He is stubborn and snuggly, energetic and lazy, all at the same time. He's a moose of a dog. Sometimes I underestimate his pure strength. He's incredibly athletic and 70lbs of pure muscle. He refuses to come inside and prefers we sit outside with him. He loves paddle boarding, camping and hiking in the summer and sitting in the snow, snowball fights and sledding (on his own sled) this winter. I think I went overboard on socializing him as a pup. He knows no boundaries and thinks everyone that walks by is his BFF. Even our UPS, Amazon and Fed-ex delivery guys know him by name. They all play with him when they come and leave treats on my packages if he's not outside to greet them. It breaks my heart these are her only pups but so honored to call one my own. Thanks again Shannon!"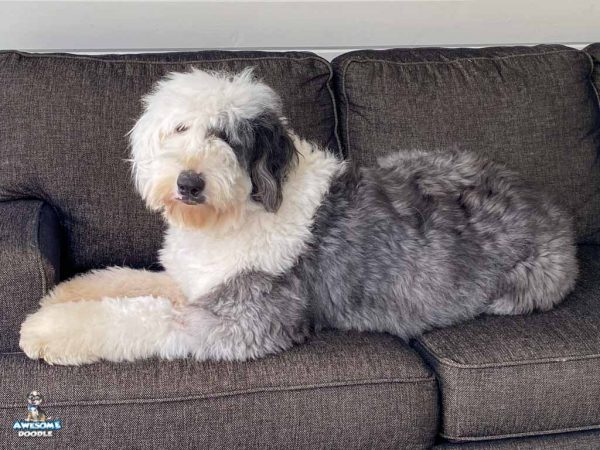 Born: February 6, 2021
Estimated Size: 45-65lbs
Go Home Dates: April 3, 2021 to April 10, 2021
Notes: Free delivery to Detroit Airport 4/4 ONLY.