Darcy is a female F1 SheepaDoodle puppy.
Congrats to: Lexi and family from New York, NY on this Girl, Darcy.
AwesomeDoodle puppy review / comments submitted by Lexi and family from New York, NY on their F1 SheepaDoodle:
"A quick update on life with Darcy-doodle: she is the most loving, friendly dog in the universe. One kiss is never enough – she likes to make sure everyone gets at least 10. We live in an apartment building, and I think just about every resident knows her name at this point, she is the social butterfly and welcome committee for the whole building. She loves to play with other dogs and is obsessed with tug (with everything, including our shoes and dish towels, unfortunately). She is stubborn and can be demanding so we're still working hard and making training a regular part of life to reinforce good manners. The first couple of months were definitely tough (she was a tiny shark and had a very hard time with parasites and a general weak stomach) but it has been such a joy to watch her grow and develop and we can't wait to see what she has in store for us next!"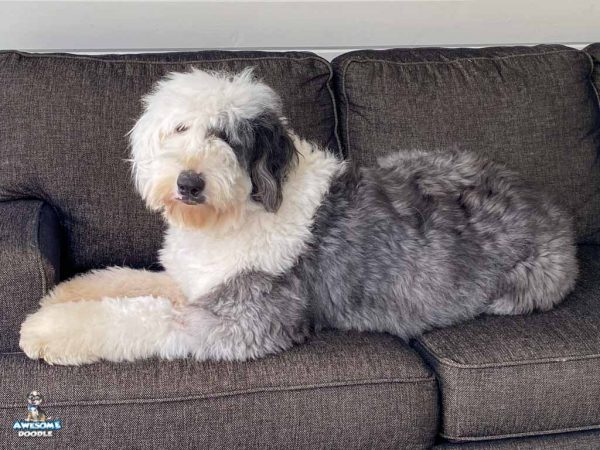 Born: February 6, 2021
Estimated Size: 45-65lbs
Go Home Dates: April 3, 2021 to April 10, 2021
Notes: Free delivery to Detroit Airport 4/4 ONLY.