Takeo is a male F1 SheepaDoodle puppy.
Congrats to: Luis and family from Marina, CA on this Boy, Takeo.
AwesomeDoodle puppy review / comments submitted by Luis and family from Marina, CA on their F1 SheepaDoodle:
"This is Takeo checking in at 20 weeks! I've been busy doing all my favorite things in Monterey! I live next to the beach, so I'm always there and playing in the sand dunes! Good thing I'm a sheepdog and have all this fur to keep me warm. Phew, I get worn out almost every day. I don't care too much for fetch and I don't like getting shots, but boy oh boy do I love running! ...and sleeping belly-up on my back and eating chow and playing. But, my family says I'm still a puppy so they won't let me go on longer runs with them... yet. My favorite thing is to dig deep holes in the sand and then stick my whole face inside. It's so satisfying! I think everyone should try this. I like my morning training, too! I learn almost every training lesson the first time they teach it. I was even house trained in a week, they seemed really happy about that. I'm really good with all the basics - stay, no, come/idiwah, sit...etc (some of my commands are in Korean, wow!). I'm usually good with "katchi", and can walk and run for a long time next to their feet without pulling. This makes the bigger humanz very proud. I love crunchy leaves! ...and I really don't like "leave it" nope, no I don't! I meet all kinds of new friends on the beach trail. Lots of humanz like to greet me. Children and toddlers are my favorite. I really like birds and rabbits -- but they usually run away, I'm not sure why. I stay away from the Coyotes, though. I've never met a friend that looks like me, but today I met a Bernedoodle that came pretty close. Doc says I'm very healthy and on New Year's Day I weighed in at 25lbs! Well, gotta jump into the car with my family to pick the small humanz up from school now. Thank you AwesomeDoodle for all the tips and please tell Momma I'm having so much fun with my family :)"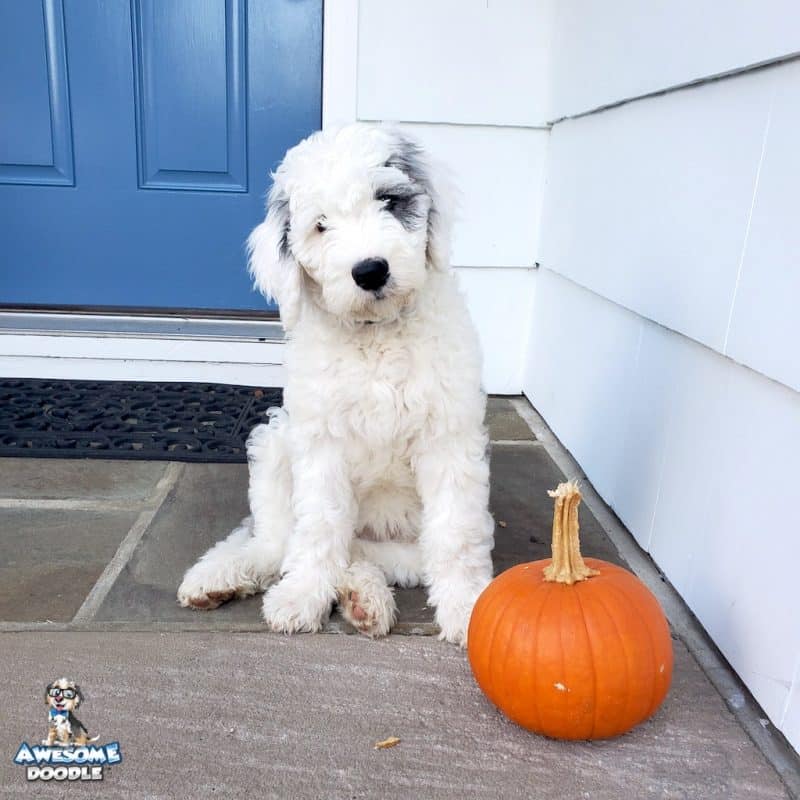 Born: August 24, 2021
Estimated Size: 35-50lbs
Go Home Dates: October 19, 2021 to October 29, 2021
Notes: Free delivery to MSP 10/27. Delivery to Kansas City, Wichita, or Denton, TX for $250 on 10/29.