LaLa is a puppy.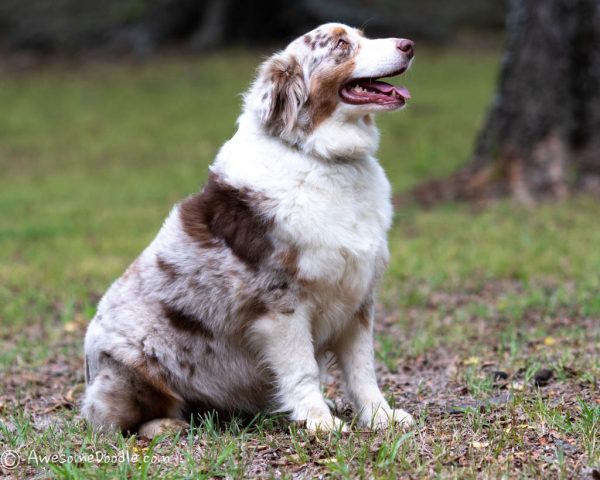 Litter: Libby x Rocket 1-20
Born: January 20, 2020
Breed of Puppy: F1 AussieDoodle
Estimated Size: 35-50lbs
Go Home Dates: November 28, 2020 to November 28, 2020
LaLa. See more photos below.
I can't believe LaLa is 16 weeks old. She has been truly amazing. She has a real personality and kind of does her own thing. 

   She absolutely loves chasing balls. This pairs perfectly with our two year old because he loves to throw them and hit them off a tee. We are working on dropping them. She brings them right back every time but sometimes just doesn't want to let go of them. She loves stuffed animals. LOVES running outside. She would prefer to spend most of her time out there. Bathroom breaks consist of doing her business followed by a jaunt around the lawn. 

     As far as dislikes:  she doesn't like any sort of hats.  She barks continuously when someone is wearing a ball cap or winter hat. 

     Socializing: we have been nervous about this because of the stay at home orders. She goes on walks through town a couple days of week. She finished up her vaccines today and will be able to start daycare on Friday (yay).  She is going to start with two half days a week to get acclimated and meet other dogs. Her contact with other humans outside our family has been very limited due to the corona virus. 

       LaLa picks up on things very quickly. She is also very protective of our little guy. She follows him around from morning to night. She is very quick to figure things out. One trip up and down the stairs and she became a pro. 

      She is completely potty trained. Hasn't really had any accidents in the house since coming home. We transitioned from the wood pellet tray inside to outside and then eliminated it all together. She can sit and we are working on stay. She comes when she is outside running with the word treat. She is also leash trained. 

LaLa has by far been our easiest dog to potty train. She is absolutely a joy to have around. She is very lovey and a true family dog. Thank you so much for everything!!!  -Amy

Congrats to Amy and her family on their new puppy!  LaLa is a little Red Merle female AussieDoodle puppy.  This little lady has a full white collar along with lots of white on her belly, legs and toes.  She has such a beautiful merle coat.  We think she will look a lot like sweet little Rosie.  She also resembles her momma!  Such a doll!

Size: We estimate Libby X Rocket puppies to be between 30-50 lbs full grown.


Born Wednesday January 1st, 2020.  New Year's Puppies!


Predicted Temperament & Personality: While puppy personalities vary a little, temperaments are very well balanced. Our AussieDoodle owners consistently tell us their dogs characteristics are a lot like their mom and dad. Read the descriptions below to see if you think these qualities would be a good fit for your family.