Sophie is a puppy.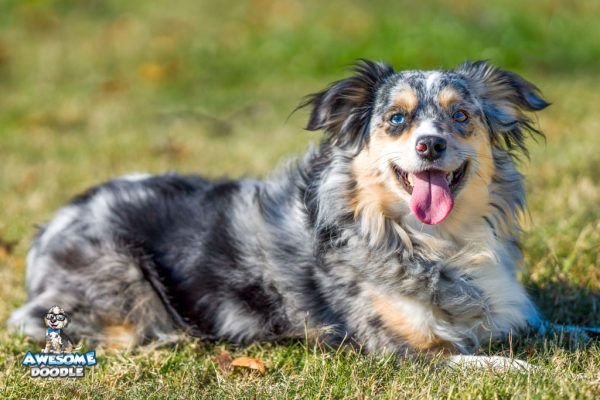 Litter: Petunia x Humphrey
Born: February 15, 2020
Breed of Puppy: F1 AussieDoodle
Estimated Size: 20-35lbs
Go Home Dates: November 28, 2020 to November 28, 2020
Sophie. See more photos below.
Sophie is being raised by:
At 10 Weeks Old: Sophie is still doing great! She is sleeping through the night in her crate without crying. She goes outside to go potty 80% of the time and only uses the litter box occasionally now. She is learning to lots of things, and can already do sit, lay down, and come. We are working on come with distractions now! They finished the fence in our yard last week and she LOVES it. She runs all over the backyard. She also loves to sit on our deck and watch all the wildlife (ducks, squirrels, birds). We are so impressed that she doesn't bark at all! She just takes it all in. We are starting to work on leaving her for short periods of time, which is hard for her since she has been with us every second for the past month. We started yesterday with us all going upstairs for 5 minutes while she was in her downstairs crate. She hated it and cried, but hopefully she will get used to it. Luckily for her she will never have to be left alone for long!

Thanks again for all the great information you guys send! – Kari & Mark

Congrats to Kari and Mark in Ohio on their new doodle girl! Sophie is a female black phantom AussieDoodle puppy with a soft black based coat and vivid copper accents. Her copper should fill in more around her precious little muzzle as her hair gets longer. We think she will look a lot Stormy as she grows and gets fluffy. Such sweet little honey isn't she?

Size: We estimate this Petunia X Humphrey puppy to be between 20-35 lbs full grown.


Born Saturday, February 15th, 2020.