Kirby is a puppy.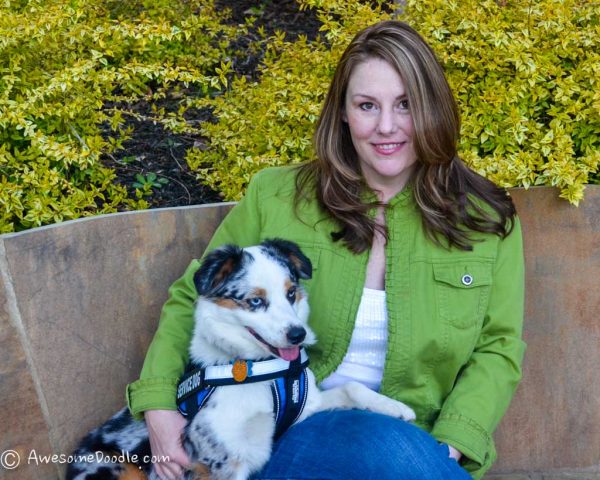 Litter: Cali x Gator
Born: March 18, 2019
Breed of Puppy: F1 AussieDoodle
Estimated Size: 20-35lbs
Go Home Dates: November 28, 2020 to November 28, 2020
"Kirby is 15 pounds of pure "HAPPY" at almost 11 months old! I have had happy dogs before, but he tops them all! Everyone who meets him sees it. He's so stinking cute too! 
Because he is so smart (and adores me) training has been great! He can do a 5 minute sit-stay – even in a store or with other dogs wondering all around him. He comes at "Look!" every time… even the dog I take care of comes at "Look" now. (Training by osmosis.) He loves his teeth brushed; all I have to do is hold up the toothbrush. He even tries to steal my other dog Gypsy's toothpaste! We brush every single day. 
Early on I introduced him to my friends cat, and he went swimming several times in my neighbors pool. He goes shopping with me and is hit wherever we go….everyone at the hardware store knows him by name. He's also a huge hit with all the kids in the neighborhood … there are a lot of variations of how Kirby comes out when they say his name, it's pretty darn cute! We are still working on not getting soooo excited with the kids. It's hard to reign all that happiness in.  
Kirby is a super fast runner! I think we will start agility after he's a year old and recovered from his neutering, which I plan to do a little before his one year birthday.
His looks have changed a lot! His red is lighter and brighter (he was almost chocolate when younger) and his face is whiter. His legs and chest are snow white! The photos show the change. 
Needless to say I love this little guy to pieces… he has brought so much  joy back into my life after losing my husband and my sweet Wheaten, Joey, over a 18 month period. Happy days are here again! Thank the Lord!" – Susan
Kirby is a red tri color male aussiedoodle. He has bright copper coming out on his face and legs. He has perfect white markings on his face, chest and legs, with a cute white-tipped tail. He's so adorable! We think he will look like Jax or Bella as he gets older.  Congratulations to Susan in California.