Winnifred (Winnie) is a F1 AussieDoodle puppy.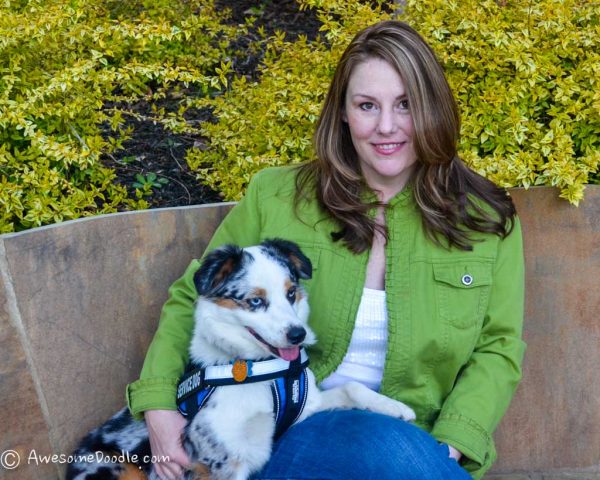 Litter: Cali x Humphrey
Born: January 25, 2020
Breed of Puppy: F1 AussieDoodle
Estimated Size: 20-35lbs
Go Home Dates: November 25, 2020 to November 25, 2020
Winnifred (Winnie). See more photos below.
Winnifred (Winnie) is being raised by:
11 weeks and Lady Winifred is doing great!

Yes – CRAZY puppy time is in full swing. Her nickname is Freddy…as in Kruger…

She's totally potty trained although still uses the potty pad for wee wee a few times a day. If she has to do #2 on the pad because I failed to take her out timely she gets angry!

She does "sit" and "down" on command without fail . She also will do "sit, stay and then come" up to about 25 feet.

She watches everything. Last week it was airplanes and the local train. This week she loves to watch the deer. She doesn't make a peep and doesn't move; she just watches.

We are working on the people in her life – training them to talk to her like the Lady she is as opposed to an excitable puppy.

She's growing like a weed and goes for her second vet visit on Thursday.

I just love my little Winnie.  She's the best shelter-in-place companion one could wish for.

Hope everyone at Awesome Doodle is healthy and safe. – Mary

Congrats to Mary on her new puppy Winnie! Winnie is a female black phantom mini AussieDoodle puppy with vibrant copper markings. She has little touches of white on her chest, toes and a tad on her little chin. She will look just like her half brothers Harley or Bear. Winnifred is such a little darling!

Size: We estimate this Cali X Humphrey puppy to be between 20-30 lbs full grown.


Born Saturday, January 25th, 2020.