Charli is a F1 AussieDoodle puppy.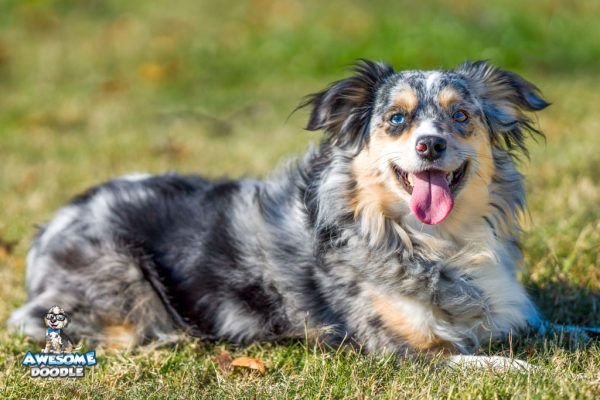 Litter: Petunia x Humphrey
Born: February 15, 2020
Breed of Puppy: F1 AussieDoodle
Estimated Size: 20-35lbs
Go Home Dates: November 25, 2020 to November 25, 2020
Charli. See more photos below.
Charli is being raised by:
"We can't thank you enough for giving us our little silver lining Charli Love! We are totally in love with her and couldn't be happier! Sharon, thank you for all the super cute gifts, advice and all the answers to our questions! Erin, thank you so much for driving her closer to us! Without your help, we couldn't have done it. Tom, thank you for all the amazing videos you have on your website! Diane & Morgan, thank you for raising this beautiful bundle of joy and for the amazing gifts you sent to us with Erin. Can't believe you even personalized a blanket for Charli! That was really sweet of you! We know she is missing her mom and her siblings right now but we are doing the best we can to make her happy.

During the first night she kept waking up every two hours crying so I took her each time to the litter box and she peed and even pooped one time. She then couldn't take the crate anymore and I got her out at around 6am. It is ok! We know the first few nights can be tough, but we take it! We know it will get easier over time.

Thanks again for everything! You are all wonderful!"  — Gaby, Kevin, Alexa & Max

***

I can't thank you enough for all the information that you guys share with us all the time. I don't know of another breeder that works like you guys. I am so impressed and I feel so blessed that I came across to your website when I was researching to get my AussieDoodle.

I keep recommending you guys to everyone I know. So far, I have one friend who already got her AD. I have given your name to other friends as well.

Thank you again and I will stay in touch! – Gaby

Congratulations to Gabriela and family in New Jersey on this beautiful girl! Charli is a phantom blue merle female AussieDoodle puppy with rich copper markings. She has a big white patch on her chest and a white blaze on her forehead which we don't see often with our phantom merles. We think she will looks just like her half sister Gilley.  She is such a precious little lady!

Size: We estimate this Petunia X Humphrey puppy to be between 20-35 lbs full grown.


Born Saturday, February 15th, 2020.