Onyx : ADOTM Oct 2018 is a No Color found F1 AussieDoodle puppy.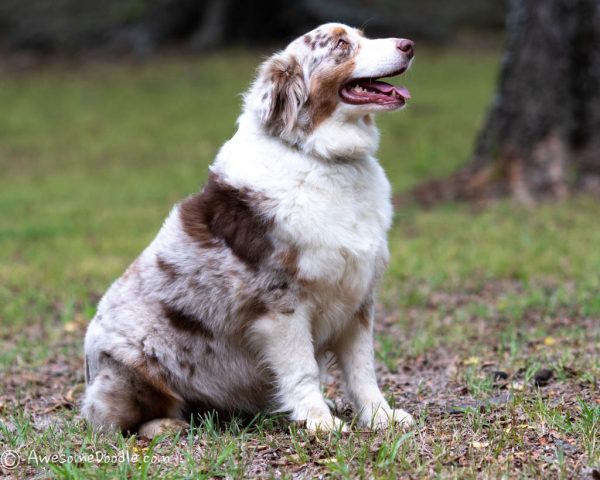 Litter: Libby x Jackpot 1-18
Born: January 27, 2018
Breed of Puppy: F1 AussieDoodle
Estimated Size: 35-50lbs
Go Home Dates: November 28, 2020 to November 28, 2020
Onyx is a blue merle male AussieDoodle.  Wow!  His colors are so unique and we've never had one quite like him. His bold colors will be striking and that copper is so pretty.  He has it all – blue merle, copper (and copper eyebrows), and black – all in one adorable package.  He will look similar to Georgia as he grows, but with lots more copper.  Congratulations to Andrew, Carrie, Heidi, & Ben in Wisconsin.
What was your experience like finding AwesomeDoodle?
When we started looking for a new puppy, we were really in no hurry. We had just lost our 14 year old Australian Shepard a month prior. We wanted to make sure that our next dog would be just as special, not a replacement for our loss but a dog that we could love just as much.
We found the AwesomeDoodle website and read about the care that is given to each puppy and the amount of interaction with people and experiences. It all sounded so interesting, but alas, we decided to put everything on hold and think about it for awhile…..Okay so less than a day later I was filling out the paperwork, sending emails and mailing my deposit. Then, the wait began for real.
What was your experience like once you signed up and then chose a puppy?
We read everything on the website several times, watched the videos, and the puppy cams.  One Sunday night after a busy weekend, when we least expected it, a call came in saying that there was one puppy left to be chosen in this particular litter of puppies. Were we interested? At that point I certainly don't remember the specifics, because the answer was  YES! He was so adorable and looked like he would fit into our family so well. So yes, we found our puppy.  The next stage of waiting began. Watching the puppy cam became an obsession and the individual pictures and especially the individual videos were amazing to receive. It made us feel so much a part of Onyx's life even before we met him. We were so thrilled to meet him, but also felt comfortable in knowing that he had the best care possible since birth.
Tell us about Onyx already! 😉
Onyx has become quite the 7 month old puppy. He's cute and fluffy and 98% of the time he's a super duper AwesomeDoodle. I have to reserve the other 2% for when he's chewing up something we have inadvertently left in his reach. Ha! He loves to play with his big brother Ralph and follow his 2 cat sisters around. He's waiting for full cat sister approval, although he's reached the "We will play in front of you while you watch" level. Our human children are both in college but when they are home, Onyx adores sharing his toys with them :)
Onyx also really likes puzzle toys, but has figured that you can flip them upside down and get all the treats out at once. Ahg… back to the drawing board on trying to outwit our super smart AwesomeDoodle. We have many Onyx adventures and if you like, you can follow him on Instagram @Onyxthewonder (Shameless plug)!