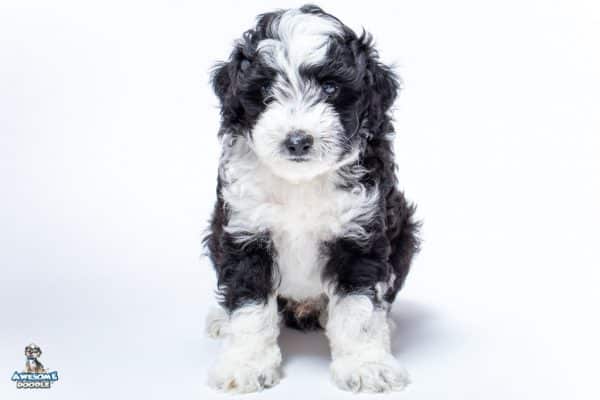 Black Bi-Color AussieDoodle
The black bi-color is one of the cutest color combinations. They are marked by a white blaze on the snout, a big white chest, and white feet with some white up the legs. A bi-color does not have copper. A bi color has more white than a tuxedo.
See more Black Bi-Color AussieDoodleBlack Phantom AussieDoodleBlack Tri-Color AussieDoodleBlack Tuxedo AussieDoodleBlue Merle AussieDoodleBlue Merle w/ Copper AussieDoodleBlue Merle w/ White & Copper AussieDoodleBlue Merle w/White AussieDoodlePhantom Blue Merle AussieDoodlePhantom Red Merle AussieDoodleRed Bi-Color AussieDoodleRed Merle AussieDoodleRed Merle w/ White & Copper AussieDoodleRed Merle w/White AussieDoodleRed Phantom AussieDoodleRed Tri-Color AussieDoodleRed Tuxedo AussieDoodle puppies
Congrats to: Jim and family from South Glastonbury, CT on this Black Bi-Color F1b AussieDoodle puppy.
Congrats to: Paola and family from New York, New York on this Black Bi-Color F1 AussieDoodle puppy.