Toy, Mini, and Standard AussieDoodle Puppies for sale, plus SheepaDoodles!
AussieDoodle Puppies available, and upcoming litters

Get on our waiting list now, and your family could be picking your new best friend from one of our upcoming litters on this page. Contact us today
See our upcoming AussieDoodle litters below to see who's getting ready to have another beautiful litter. Who do you like? At AwesomeDoodle, you have lots of choices and are never locked into a particular litter. If you change your mind, our deposits are refundable for one year within the 48 states.
When you pick a newborn puppy from AwesomeDoodle, you get to see where and how it's raised. Watch it on our 24/7 puppy cams in the nursery, and you'll know your puppy's personality before you even get him home.
Available and upcoming puppies as of May 24, 2020
Get Instant info, including fee ranges, availability, and how to get approved:
Interested in a puppy from one of these litters? Don't wait.
Secure your position now, so you can pick from one of our upcoming litters.
Litters Just Born
The following moms have recently delivered their puppies. Once they are strong and ready, we will be offering these puppies.
Sign up now and there is a good chance you could pick a puppy from one of the litters on this page.
Joplin X Rocky near Sioux falls, SD.  Born May 18th, 2020. (55-75 lbs)
More details on this litter within the next few days. Puppy picks TBD.
We're so excited to be offering these non shedding, fun loving Sheepadoodles to our families.
Joplin is the sister to Memphis, and also a 50lb confident happy go lucky poodle who loves all humans and other dogs. Very velcro dog and very affectionate. More gentle, loves to rest her head on your feet. Takes treats out of your hand gently.
Predicted to be calm, confident, happy dogs.
Rocky is an AKC Old English Sheepdog and he is happy go lucky. He loves everyone, always happy, and when he wags his docked tail, look out because his entire butt is wiggling. He lives with lives with 4 kids and is gentle with them all. He has no annoying behaviors, doesn't bark much, and not a mean bone in his body. He is a 70lb lover who is happy, healthy, and calm.
Photos and video of mom and dad coming soon.
Litters Being Born Soon
The following shows moms and dads due to have puppies. You can sign up now to pick a puppy. Our deposit is refundable, and you're not locked in to any particular litter. Contact us and tell us about yourself and why you would make a good home for one of our furry babies.
Erin's Juno X Humphrey in Louisville, KY. Due June 12th, 2020 (20-30lbs)
Juno is the perfect jogging partner, swimmer, boater, golf cart rider, she does it all. She is incredibly affectionate and doesn't let her owners out of her sight. She's the type of dog that can mingle with you around the neighborhood, and you'll be perfectly comfortable that she's not going to run away. All the neighbors love Juno. She is one happy girl. Juno is one of our higher energy dogs, but she is also ready to snuggle up on the couch with you any time you want. She has no problem keeping up with you on hikes. If you want a Frisbee star dog, agility dog, or trick dog, Juno is your girl. Learn more about Juno and watch her mad Frisbee skills.
Erin raises her AussieDoodle Puppies in Louisville, Kentucky. Not only does she raise the most affectionate little pups, but she also works behind the scenes with AwesomeDoodle. Her puppies are wildly popular with all our AwesomeDoodle fans!
Jordan's Faith X Ranger in Columbus, OH. Due June 20th, 2020 (15-25lbs)
Faith is a classic blue merle with two VERY blue eyes. This beauty isn't just a pretty face, she is also highly intelligent and athletic. Her puppies are wildly popular with our AwesomeDoodle owners. These doodle dogs are easy to train, active dogs and we are thrilled that she is expecting again. See her past puppies here.
Ranger is a red poodle just like Humphrey, and we expect his puppies to look very similar. Bio and video on Ranger coming soon!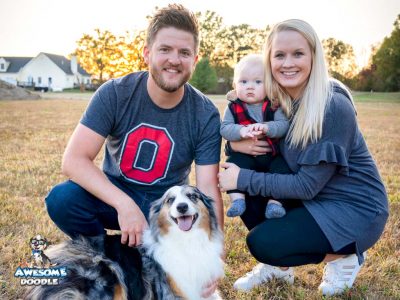 Jordan and his family will be raising this litter in Columbus, OH.
Jordan's Roxie X Gunner in Columbus, OH. Due June 20th, 2020 (30-40lbs)
Roxie is her name & affection is her game
. This beautiful red merle mini Aussie stands 16 inches tall and is 35 lbs. Roxie's coat is so beautiful and her blue eyes will pierce to your heart when she glares at you. As you may know, The Australian shepherd is known to be athletic, fun and loyal to their owners. Roxie possesses all of these qualities and shows them on a daily basis. From playing fetch, to hugs, Roxie just wants to be around people.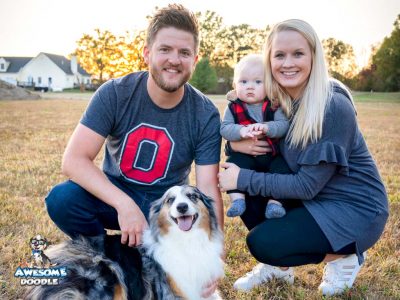 Gunner lives close by with Uncle Mike. He is the new big daddy on the block and we are excited for more beautiful Gunner pups!
Jordan and his family will be raising this litter in Columbus, OH.
Jordan's Maggie X Ranger in Columbus, OH. Due July 4th, 2020 (25-35lbs)
Maggie is considered a small standard / large mini at about 38lbs and 19″ tall. Her Sire and dam were both champions. If one could "mold" the perfect dog, it would be Maggie. I've never seen this girl get tired! She has her calm time, but very much enjoys her playtime, and is always ready to go. Like most Aussies, she wants to be right beside you enjoying a belly rub or simply snuggle with us when we watch tv.
Ranger is a red poodle just like Humphrey, and we expect his puppies to look very similar. Bio and video on Ranger coming soon!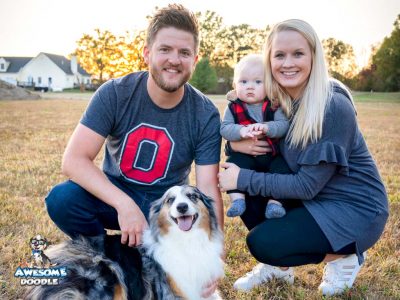 Jordan and his family will be raising this litter in Columbus, OH.
Mike's Ivy X Gunner in Columbus, OH. Due July 4th, 2020 (30-40lbs)
Finally Ivy is ready! We kept Ivy when she was a puppy from a litter managed by Mike. Tom and Mike were deciding who gets to keep her! She's a gorgeous girl and has the personality to go with it.
Confident, yet submissive, playful yet not hyper, Ivy is a pleasure to be with and the type of dog that any family would adore as a pet.
Mated with Gunner, we're pleased and excited to offer you this litter. If you're interested in a puppy from Ivy and Gunner, make sure your size preference goes up to 40lbs. We absolutely love this size for hiking, swimming, and even therapy dogs.
Tammy's Molly X Gator in Sioux Falls,
SD.

Due July 6th 2020 (15-25lbs)
Gator is back! With a gorgeous girlfriend named Molly. And best of all, the person behind the scenes with Gator's mom has finally agreed to be part of the AwesomeDoodle Family.
We've been working with Tammy for a couple years are are excited to have her raising Gator and Molly's litter. We're so excited to see these pups, especially because we expect a couple red merles and there's always a chance for a cream color.
Molly is a happy go lucky Aussie who loves to play and always staving for attention and human touch. With Gator's spunky attitude, their puppies will make great family friends under 25lbs.
Tammy will be raising these puppies in Sioux Falls, SD.
Nancy's Penny X Champ in Columbiaville, MI. Due July 17th, 2020 (10-20 lbs)
Penny is one happy girl. She loves to be outside all day, exploring, swimming, and keeping the alpaca barn in check. In the evenings she is ready for her snuggles! This is Penny's first litter and we just know she will love being a doodle mamma.
Champ enjoyed meeting his new lady Penny, together they will have amazing happy little AwesomeDoodles. These pups are petite but active and athletic enough to keep up with you on pretty much anything.
Nancy and her family will be raising this litter in their home in Michigan.
Diane's Maddie X Gunner in Louisville, KY. Due July 22nd, 2020 (20-30 lbs)
You've probably heard me say AussieDoodles have a "happy go lucky" attitude? That's Maddie. She LOVES everyone, even strangers. She borderlines on being "In your face." But wow, this girl is a lover and wants love from everyone.
Check out Gunner's past puppies here. They are so cute and fluffy! Gunner is such a good boy and we just love his pups.
Diane and her daughter Morgan will be raising these puppies in Louisville, KY.
Shannon's F1b Zinnie X Humphrey in Ohio. Due August 5th, 2020 (20-35 lbs)
Zinnie is a blue merle AwesomeDoodle and her parents are Winnie and Cash, two of our most amazing pets. Her puppies are F1B mini AussieDoodles, giving  them have even less of a chance for shedding and allergens.
Humphrey is one of our most popular daddies. See his past puppies here.
Shannon will be raising this litter in Bryan, Ohio.
Diane's Gracie X Champ in Louisville, KY. Due August 7th, 2020 (10-15 lbs)
Gracie's toy sized AussieDoodle puppies are not just adorable, but they are smart little buggers too! Her pups are toy sized, easy to take with you anywhere.
Champ puppies are such sweet little fluff balls, we just can't get enough of them.
Diane and her daughter Morgan will be raising these puppies in Louisville, KY.
Natalie's LibbyX Rocket near Dallas, TX. Due July 30th, 2020. (25-45 lbs)
Libby is our standard size red merle beauty. She is very laid back and loves to be right by your side. She'd rather follow Natalie around all day then c Libby's puppies are great family dogs; they are loyal, attentive, and affectionate dogs.
Rocket is Natalie's main man. His color genetics throw all different colors and patterns on his puppies. We can't get enough of them! He loves to play ball and fetch.
He es
pecially loves the boat and the lake. He can't wait to get in the water and you can't keep him out of it. Rocket is super laid back, super loving to all of his family and everyone that comes around and is extremely loyal. For a poodle, he loves to snuggle on the couch and is very affectionate.
Kindel's puppies will be raised near Dallas, TX with Natalie and her husband Kris.