Don, Christy and family, from Orlando Florida hold their new red merle AussieDoodle Puppy, Tilly.
What can we say about our experience with AwesomeDoodle to get our puppy Tilly…..AWESOME!!
We knew that this was the puppy for us when we saw the care that they took in making sure his puppies were placed in the right home.   It truly showed his passion for these little wuppies.  After interviewing twice and sitting on the edge of our seats for a couple days we got the news that YES, we will be owners of one of Winnie's new pups.  
With having an 8 and a 9 year old, telling them we are getting a puppy and then having to wait 7 weeks was torture, however with the multiple photos sent and the weekly video updates (not to mention the puppy cam) it made the days  fly by.
Finally it was time!  We notified them that we were going to fly up to get her and fly back home within 24 hours.  They were so great.  They helped us pick the right carrier, explained how the airlines worked with carrying a puppy on board, he even picked us up from the airport.  It was awesome and we got to witness true Louisville hospitality.
With our plane leaving at 6:00am the next morning, we had planned on coming to the house to pick her up at 4:30, but they volunteered to deliver her bright and early to the airport.  What a trooper!
Each day is filled with joy having Tilly in our lives.  She is (we think) the smartest dog we have ever met.  So well behaved and have had a very easy time training her.  Can't imagine what our life was before her.
Thanks AWESOMEDOODLE!!!!
-Don and Christy
Don and Christy show us how to entertain an AussieDoodle on a rainy day.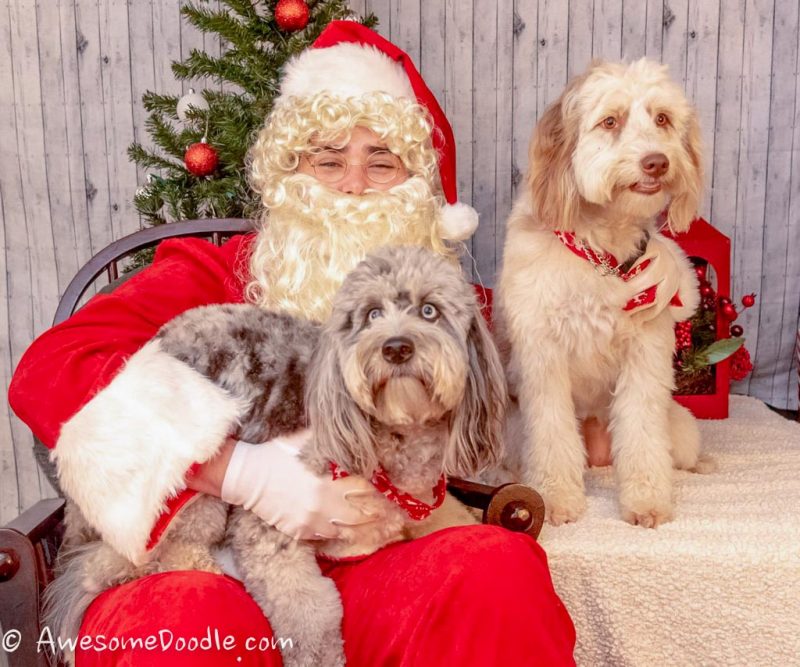 Tilly gets a glamor shot. Smile, Tilly!

Tilly hanging with her new pal Jake

Rylie and Tilly taking a nap.  Nothing sweeter than falling alseep with your new AussieDoodle.
Tilly, the 8 week old AussieDoodle, fetches for her new owner on the first day in her new forever home.

Tilly at 7 weeks old.