"Boomer has been in training since his little paws hit New Jersey soil and he is amazing.
Boomer is almost finished with his puppy kindergarten class. We had his trainer come to school to check on the spaces we have for Boomer, to watch him in a class and around school. We wanted to make sure that everything was the best for Boomer. The trainer told us that only once in a great while you get a puppy like Boomer, he said we won the lottery. His personality was perfectly suited for therapy. I knew I won the lottery the first day I saw his little puppy picture at one day old.
Three local magazines want to write articles on Boomer and numerous people ask where we got such an amazing dog. 
Myself and the two other handlers all believe Boomer was born to be a therapy dog. He intuitively has gone to certain students or adults who need extra attention. There are numerous examples I could give showing his kind heart and understanding soul.A paw on a sneaker and a sweet look is all it took to bring an anxious child back to calm and ready to continue their day. His only job this year at school is to get to know the schools, the sights and sounds of students and to be a puppy. When he comes across a child, in his journeys, that looks sad or upset he has gone over to interact with them.
Boomer has made a difference by just being present. The joy, smiles, and kindness he brings wherever his furry feet bring him. The students were shown a google slide show about Boomer and how to approach him and to always ask if they can pet him. The slides also showed how to pet him and reminded students that he is still a young puppy and that we need to take care of him and make him feel happy and safe at our school."
"Boomer

did awesome! The car ride was over 10 hours with traffic. We were careful to find grassy spots for him to pee away from where other dogs may have been. He played, slept, ate and drank water and cuddled on my lap. He never cried.
He did cry when I put him in the crate for the night, but I bought the soft crate that has the top zip. I pulled the crate next to my bed and pet him through the top and he fell asleep. He woke up at

1:00

, we went outside and peed. We went back to bed until

5:30

. I think it was a great start:) Most importantly we couldn't love him more!"
Look at Boomer with all white! A blue merle boy with lots of light gray, make all his colors stand out.
Congrats to Shari F and family. Boomer is going to be a service dog!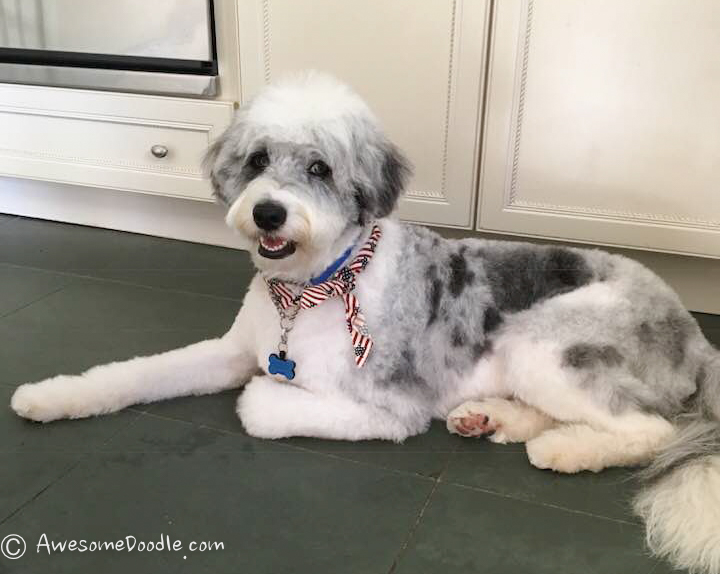 SaveSave
SaveSave