Jordan's Willow X Ranger F1 AussieDoodles in Columbus, OH.
Born Aug 27th, 2020
This is Willow's debut litter! More info coming soon.  Watch her video here. Her sister is our lovely Lulu. Jordan raised their litter himself.
Ranger is a red poodle just like Humphrey, and we expect his puppies to look very similar. Bio and video on Ranger coming soon! Check out Humphrey's past puppies to get an idea of what Ranger's will look like.
Willow is one of Jordan's guardian dogs. Her litter will be raised with Jordan and his family near Columbus, OH.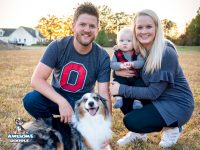 Puppy owners can log in to see food, vet records, crate size and more details on this litter.
Hi , you are logged in.
Born:
Thursday August 27th, 2020.
Go home dates:
As early as Oct 15th by car, or Oct 22nd. by plane.  Must go home by Oct 29th, 2020.
Delivery options:
You can fly to Columbus, OH, or drive within 1 hour of Cardington, OH.  Depending on where you live, there may also be ground delivery options for a fee. We are not coordinating puppy nannies for this litter due to limited flights and delays.
Estimated size full grown:
20-30 lbs
Willow's Puppies in the Nursery:
Willow puppy cam will be up until 5 weeks old