Jennifer's Willow X Gator in Atlanta, GA. Born April 16th, 2020 (10-15lbs).
Willow is a beautiful blue-eyed blue merle with perfect button ears!   She's small but mighty as they say.  All of 15 pounds – she's the smallest of my pups.  However don't let that size fool you!  She is the leader and doesn't let those bigger dogs push her around one bit! She controls the play sessions, making sure everyone plays fair and has a good time – a natural momma.
She's medium energy – will play Fetch as long as you will, but then happy to snuggle up for some couch time. At bed time, she loves her crate and sleeps there, with the door open.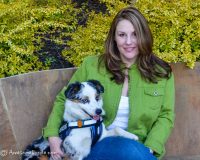 Gator is a daddy to several of our new toy size and mini AussieDoodle puppies. We chose Gator not only for his spunky and friendly personality, but also for his colors. Not only does he produce great colors, but his friendly, playful, and happy go lucky attitude will make puppies that are well rounded, compact, go anywhere family members.
Willow's Puppies in the Nursery: