Mike's Skyler X Gunner near Columbus, OH. Born April 11th, 2020 (30-40 lbs)
Skyler and Gunner live with Mike in Columbus Ohio. Skyler is a well loved AwesomeDoodle momma and we just can't wait to see what her pups with Gunner turn out like. Skyler is a wonderful family dog and loves to play frisbee!  Gunner is loves your attention but is also happy to do his own thing. Both are playful and loving pets. Their pups will be between 30-40 lbs, a great sized dog to "go anywhere" or "do anything"!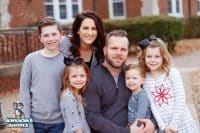 Mike and his family will be raising this litter in Columbus, OH.
Skyler's Puppies in the Nursery: