Jordan's Roxie X Gunner in Columbus, OH. Born June 7th, 2020 (30-40lbs)
Roxie is her name & affection is her game
. This beautiful red merle mini Aussie stands 16 inches tall and is 35 lbs. Roxie's coat is so beautiful and her blue eyes will pierce to your heart when she glares at you. As you may know, The Australian shepherd is known to be athletic, fun and loyal to their owners. Roxie possesses all of these qualities and shows them on a daily basis. From playing fetch, to hugs, Roxie just wants to be around people.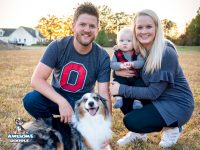 Gunner lives close by with Uncle Mike. He is the new big daddy on the block and we are excited for more beautiful Gunner pups!
Jordan and his family will be raising this litter in Columbus, OH.
Roxie's Puppies in the Nursery:
Roxie Puppy Cam will be up until puppies are 5 weeks old.