Dana's Puzzle X Charley F1 AussieDoodles near Toledo, OH.
Born September 4th, 2020. (15-25lbs)
Puzzle is a very small mini Aussie with stunning blue eyes. She's a moderate energy dog overall. She's likes to be outside especially if it's not too hot. When it's hot out, she likes to lounge around in the kiddy pool. She's likes to be close to Dana but is happy spending time with anyone who will give her some attention. Definitely a happy go lucky girl!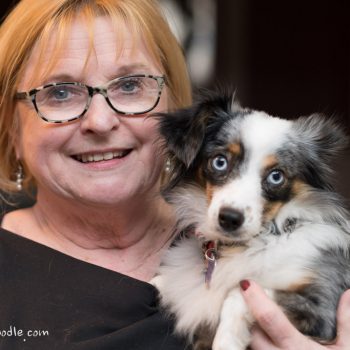 This is Charley. He is the sweetest little poodle boy and we can hardly wait to see his beautiful puppies! We expect a rainbow of colors, similar to Rocket's puppies only in a much smaller package.
Dana, will be raising this litter in her home near Toledo, OH.
Puzzle's Puppies in the Nursery:
Puzzle puppy cam will be up until 6 weeks old