Mike's Pumpkin X Champ in Columbus, OH. Born May 1st, 2020 (10-20lbs)
Pumpkin's personality is bubbly. She's always happy to see you, always ready to snuggle. When you get home, Pumpkin is patiently waiting and tries to contain her excitement, as she hopes she is the first thing you touch. I wouldn't call Pumpkin a "velcro" dog, but she's never far away. She rarely barks, she doesn't chew up anything, and she is not a digger. She is about 20lbs, so we expect Pumpkin's puppies to be in the 20lb range and sweeter than ever. Pumpkin's sister is Juno, another well loved AussieDoodle momma.
Champ's puppies are new this year and are wildly popular! His little doodles are sweet and petite. Check out his past puppies here. We call him "little champy" and he comes to us without even thinking about it. At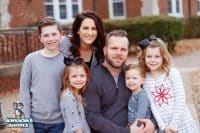 Mike's house, he has four human brothers and sisters and loves them all, even Mike's 2 year old son. If you're looking for a portable, loyal pal, consider a Champ puppy.
Mike and his family will be raising this litter in Columbus, OH.
Pumpkin's Puppies in the Nursery: