Diane's Maddie X Gunner F1 AussieDoodle Puppies in Louisville, KY.
Born July 25th, 2020 (30-40 lbs)
Go home dates:  Sept 12th- Sept 26th
You've probably heard me say AussieDoodles have a "happy go lucky" attitude? That's Maddie. She LOVES everyone, even strangers. She borderlines on being "In your face." But wow, this girl is a lover and wants love from everyone.
Check out Gunner's past puppies here. They are so cute and fluffy! Gunner is such a good boy and we just love his pups.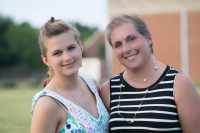 Diane and her daughter Morgan will be raising these puppies in Louisville, KY.
Puppy owners can log in to see food, vet records, crate size and more details on this litter.
Hi , you are logged in.
Born:
July 25th, 2020

Go home dates:
As early as Sept 12th by car, or Sept 19th by plane.  Must go home by Sept 26th.
Delivery options:
You can fly to Louisville, KY to pick up your puppy (we can meet you at the airport), or drive within 1 hour of Louisville, KY.  Depending on where you live, there may also be ground delivery options for a fee. We are not coordinating puppy nannies for this litter due to limited flights and delays.
Estimated size full grown:
30-40 lbs
Maddie's Puppies in the Nursery: