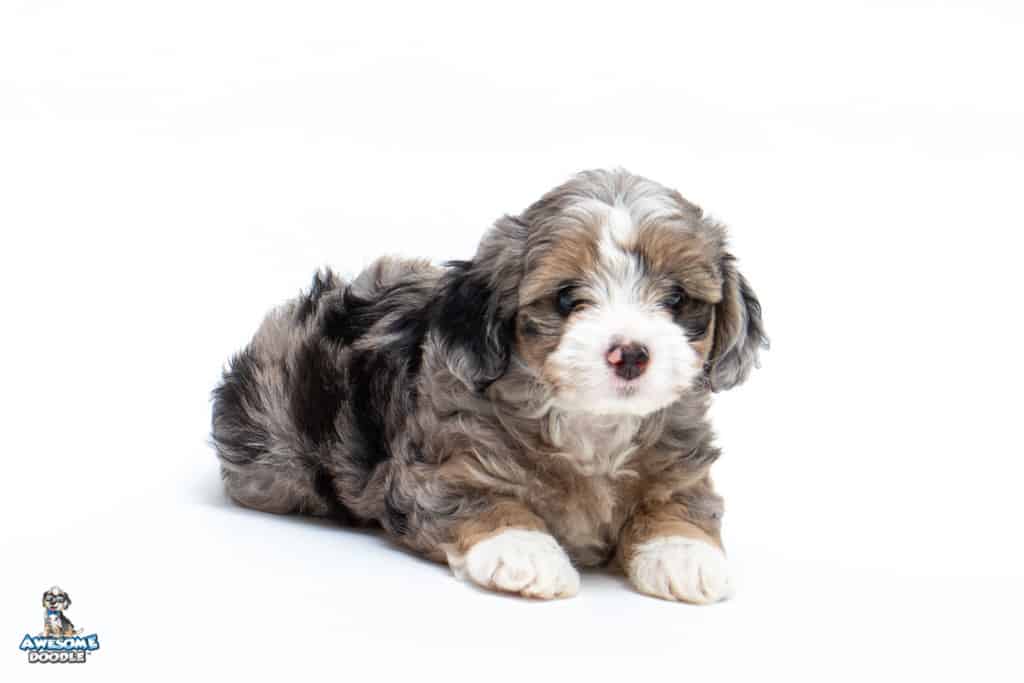 Stella. See more photos below.
Stella is being raised by:
It's been almost a week since we've had Miss Stella so I thought I would let everyone know how she was doing.

Firstly, her eating has much improved everyone was right she needed about 24 hours to feel comfortable enough to eat and drink normally but she's been doing really well ever since. She got a perfect report from our vets office. They were smitten with her but she didn't reciprocate the feeling she was very excited to go home.

Potty training has been very interesting I've NEVER had a dog that was this smart! She's only had 3 accidents and honestly I think that they surprised her as much as us. For a puppy her age I consider that to be a raging success! We started really using the potty bells yesterday because we had been working through some fear of walking out the door itself something about it just bothered her but with treats and encouragement I think she's over it. She has used the potty bells on her own 3 or 4 times now with no real instructions and each time she has actually had to go. We are so amazed by how intelligent she is. My daughter taught her to fetch a ball the second day she was home. It was amazing how fast she understood what she was wanting her to do. I'm sure that either she had done it before or perhaps Willow's love of fetch just comes naturally to her as well.

We are still working on positive associations with the crate, grooming tools, and car rides but she's making a lot of progress with small doses of exposure and lots of treats. She goes everywhere with us. I'm really hoping that with some restrictions being lifted that they will start offering training classes again soon. If that's not an option I've found a doggy daycare locally that offers one on one sessions that recently reopened. They have great reviews so I'm hoping to start one of those once We get the vets approval.

She is a wonderful puppy the whole family just adores her. She's ruined us for all other dogs I'm afraid 🤣 – Jessica

Congratulations to Jessica and Seth from GA on their new little doodle girl!

Stella is a blue merle female AussieDoodle puppy with a perfect aussie hourglass and vivid copper accents. We love her proper white chest and little white socks! Her hazelnut shaded merle coat has distinct spotting that is quite unique. We think she will look a lot like her big brother Ash a she grows her floof. Such a pretty little thing!

Size: We estimate this Willow X Gator puppy to be between 10-15 lbs full grown.


Born Thursday, April 16th, 2020.  Ready to go home between June 11th and June 21st.


Pick up info: You can fly to ATL airport to pick up your puppy, or drive within 1 hour of Kennesaw, GA. 


Predicted Temperament & Personality: While puppy personalities vary a little, temperaments are very well balanced. Our AussieDoodle owners consistently tell us their dogs characteristics are a lot like their mom and dad. Read the descriptions below to see if you think these qualities would be a good fit for your family.

 
Jessica and Seth from GA waited 22 days to pick their new little doodle girl.