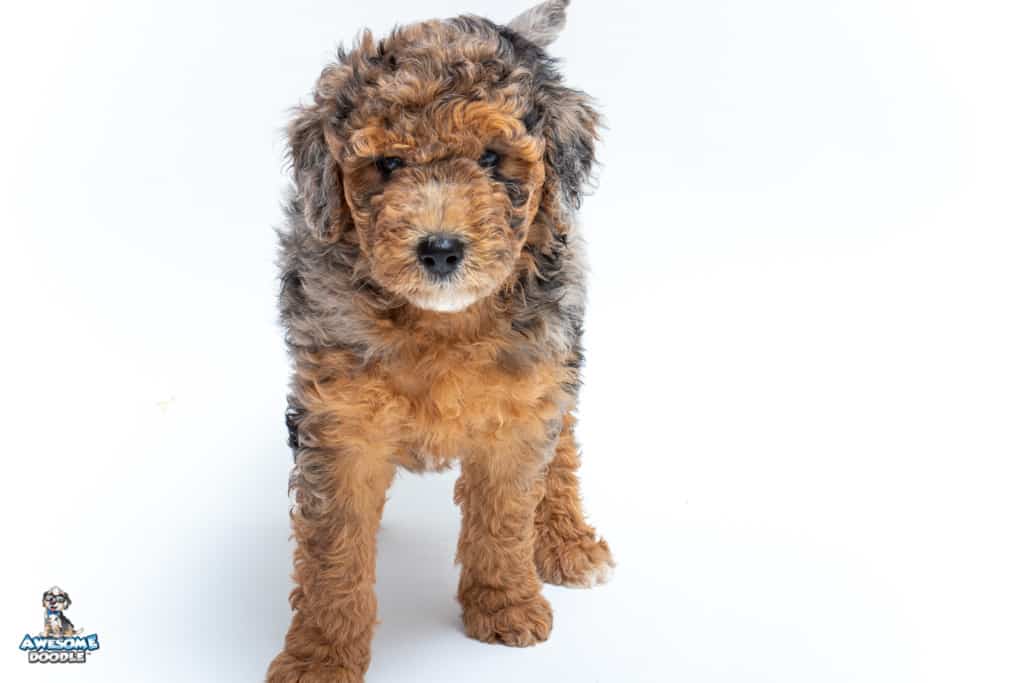 Kobi. See more photos below.
"Our pup Kobi at 10 weeks is continuing to thrive and impress us. He has learned how to sit, stand up, give paw and lay down with verbal commands and also knows them just with hand signals. He recently just learned how to ring the bells to go potty outside. This is still a work in progress. He is sleeping through the night in his crate with no issues. We are still working on reducing his bitting to our ankles and hands. We know he does it to draw attention or to play. Usually a toy or a firm NO will get him to stop. Thank you for following up and we will continue to love and shape Kobi to be the best puppy!" – Juan

Congrats to Juan from Stamford, CT on your new little bud!

Kobi is a phantom blue merle F1b mini Aussiedoodle puppy. He has vibrant copper trim that seems to extend and mix into his merle pattern. He will look a lot like his sister Maya as he grows. His curls are already starting to show! What a little charmer this boy is!

Size: We estimate this Zinnie X Humphrey puppy to be between 25-40 lbs full grown.


Born: Tuesday, July 28th, 2020. Go home dates: September 15th-29th

Pick up info: Free delivery within 1 hour of Bryan, Ohio or pick up at Toldedo, OH or Fort Wayne, IN Airports.


Predicted Temperament & Personality: While puppy personalities vary a little, temperaments are very well balanced. Our AussieDoodle owners consistently tell us their dogs characteristics are a lot like their mom and dad. Read the descriptions below to see if you think these qualities would be a good fit for your family.