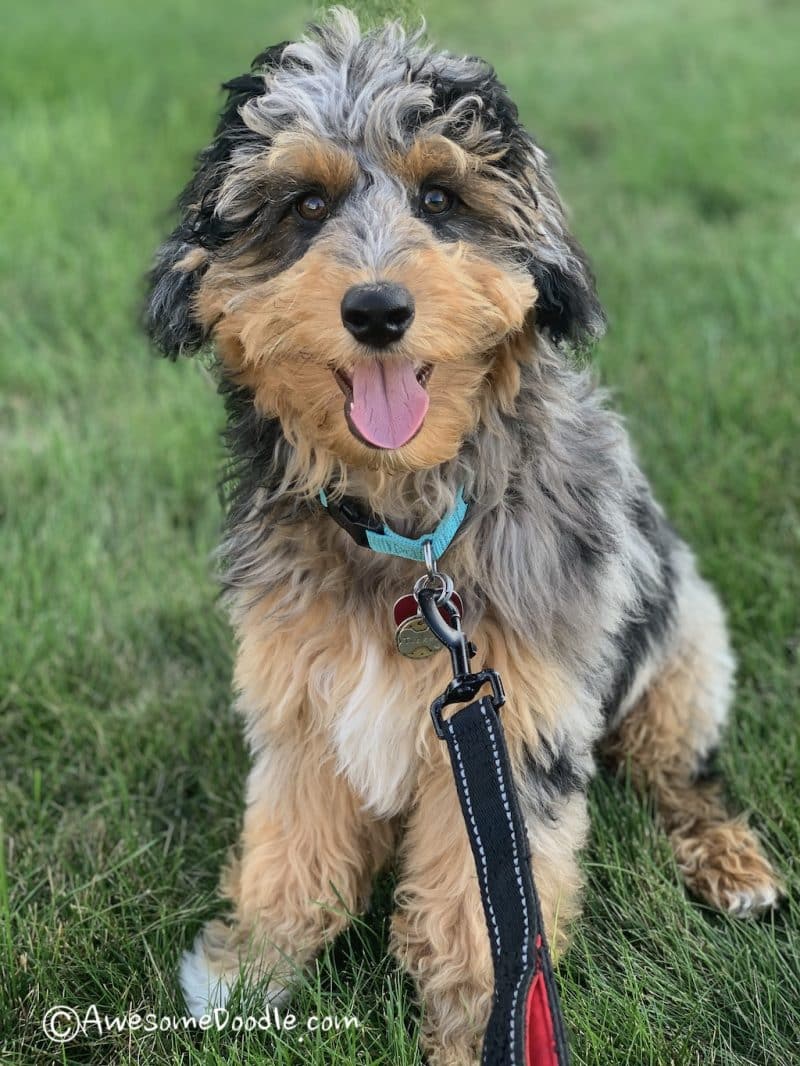 Tucker. See more photos below.
Tucker is being raised by:
"Tucker is almost 18 weeks old!!  Tucker is a lot of fun; he loves playing fetch!  At night one of his favorite things to do is chew on his Bully sticks! When we come home from activities, he always greets us with his tail wagging.  When I run outside, he always follows me around.  He loves meeting dogs in the neighborhood!  We taught him some dog tricks like paw, sit, stay, and lie down.  Our plan is to teach Tucker to roll over now. Sometimes Tucker gets into trouble, he made a hole in my shirt and he runs off with my flip flops. We LOVE Tucker."  From, Aaron (Age 8)

Congrats to David and his family in Massachusetts on their new buddy Tucker!

Tucker is a phantom blue merle male mini Aussiedoodle puppy with bright copper trim and a perfect merle dapple coat. He has cute little white mittens and a splash of white on his chest. We think he will look a lot like his half brother Hank as he gets bigger. He is one cute little doodle dog!

Size: We estimate this Zena X Humphrey puppy to be between 20-35 lbs full grown.


Born Thursday, April 23rd,  2020.  Ready to come home June 11th – June 25th.


Pick up info: Free delivery within 1 hour of Bloomington, IN or pick up at Indianapolis International Airport. Puppy nanny may be available for an extra charge.


Predicted Temperament & Personality: While puppy personalities vary a little, temperaments are very well balanced. Our AussieDoodle owners consistently tell us their dogs characteristics are a lot like their mom and dad. Read the descriptions below to see if you think these qualities would be a good fit for your family.