"Tux is incredible — I couldn't have dreamed up a better dog. He's quite handsome too, although everyone (I mean EVERYONE) thinks he's a Portuguese Water Dog. He's currently en route for the weekend with my parents to the Sierra Nevada for a weekend of swimming, fishing, and hiking. Happy dog :)"
Sophia (Tux is almost 3 years old now)
AussieDoodles are known for their happy go lucky, fun loving attitude, and commonly referred to as the "Einstein" of dog breeds.  Combine the smarts of both the Poodle and the Aussie, put it into a low shedding fluff ball, and you have the perfect dog.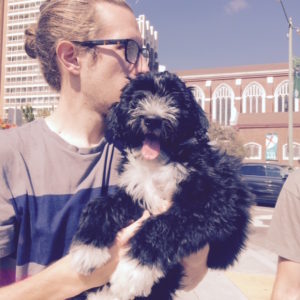 But all those smarts can be wasted, if you don't train and work with your dog on a daily basis.  Work, kids, sports, our busy lives, get in the way of quality time with our dog.
Sophia and Brad are the proud owners of "Tucks" (short for Kentucky).  When Sophia first contacted us about Tucks, she told us she lives in an Apartment, has no fenced in back yard, and works full time.  Usually, we politely decline to send an AussieDoodle home with someone in this living situation.  AussieDoodles need mental stimulation, physical exercise, and simply don't do well left alone all day.  Without these, any dog can develop behavior problems, simply because they are bored.
Sophia and Brad assured me that Tucks would get plenty of training and exercise, and even get to go to work every day!  After several emails and a visit from Sophia and Brad, they convinced us Tucks would have an amazing home.  And wow were they right!  They have been working with Tucks and here is a video of their progress:
Sophia says, "Here's a video of our little Kentucky at 17 weeks (not 15 like I said in the video!) showing off some of his tricks. Also one of me trying to teach him "Roll Over" using the 'fake clicking' technique!"
We are so happy that Tucks has this awesome family.  Here is what Sophia and Brad have to say about Tucks:
"Kentucky" the puppy has far and away exceeded our expectations and dreams. He is so compassionate, intelligent, and loving. He is incredibly smart – he has learned so many tricks so easily, and really enjoys being challenged and trained. Definitely follow all of the training tips and advice from AwesomeDoodle; this breed is an interesting one to master and they has that knowledge to help you. Tux also has an amazing emotional intelligence, you can tell how important your approval is to him. Even though he challenges us regularly, he is always wanting to appease us and be loved. He's very high energy and attached to us, but we don't have a problem with that!
AwesomeDoodle was a dream to get our dog from, as they genuinely cared about our pup's training and well-being, and our sanity through it! We had the lucky opportunity to meet Tux, and the AwesomeDoodle family, and even visit their home, before we decided to take home our Awesome Doodle. Talking to them and seeing how special their little family operation is, really sealed the deal. Thank you for my dream dog! And for those considering Awesome Doodle- know you're gett
ing the best of the best. One other piece of advice: Pupperoni is the answer to every question.